After the unending rift that turned worse post the meeting of JDU MLAs on Wednesday evening, Nitish Kumar, Chief Minister of Bihar resigned and is on his way to submit the same to Governer Keshari Nath Tripathi.
Sources claim that in the meeting held, the MLAs endorsed his decision to quit. The latest development will only widen the rift between the two parties.
Post the resignation, Kumar spoke to media about the reason behind stepping down. He said that he did this for the interest of Bihar. He then said:
"Ever since the corruption charges were leveled against RJD leaders, we have been asking them to at least explain those charges. We also met Tejashwi and told him that the image that is being created, he should clarify all that. But this did not happen. The situation got so worse that it became difficult for me to work. We had followed the Gathbandhan Dharma and had tried to protect it. But now my conscience does not allow me to continue."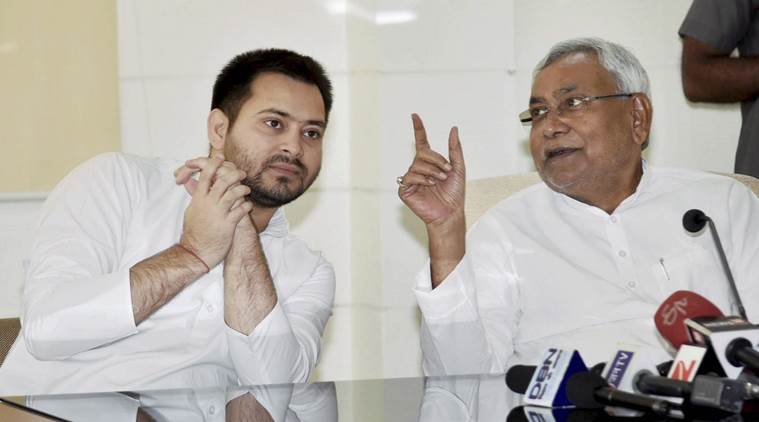 Later to that, he went saying that he had spoken to Congress leaders including Rahul Gandhi on the matter. "There are many Congress leaders in Bihar. We also asked them to find a solution to all this. So now I have decided to keep myself away," said Kumar adding that the Governor has received his resignation.
The rift has its inception when the resignation of Deputy Chief Minister Tejashwi Yadav has happened after the JDUs meeting.
Meanwhile, the resignation of Kumar came hours after RJP chief Lalu Prasad Yadav ruled out the stepping down of his son Tejashwi. Talking about this, Lalu Prasad Yadav was quoted saying, "Tejashwi Yadav will not resign, Nitish Kumar didn't ask for his resignation."
Lalu then mentioned that there is no bitterness between him and Chief Minister Nitish Kumar. "No bitterness between me and Nitish. Spoke to him yesterday. Media trying to crack our alliance," said Lalu.