Kapil Sharma's show has undoubtedly nurtured the careers of some promising comedians in India, Sunil Grover, and Chandan Prabhakar are some of them, or it can be also said that these two comedians took the show to the whole new level with their timely punches and wittiest dialogues.
It is unfortunate that the ugly spat between Kapil Sharma and Sunil Grover has brought major changes to the show, both Sunil and Chandan left the show post the incident that shocked everyone.
However, the recent Twitter conversation between both the comedians has made the Kapil Sharma show's audience go nostalgic. This happened as Chandan went sharing a picture of him in front of a beautiful monument to which Sunil Grover gave an interesting reply.
This minute chat between them reveals how friendly they were and how beautiful it will be if both of them re-enters TKSS. Chandan captioned his photograph, "sometimes posture of ur body defines u…love."
Soon after Chandan posted this, Sunil Grover turned on his humor mode and made an epic comment, he didn't leave the opportunity to take a dig at Chandan.
He immediately replied to the tweet saying, "Is this picture what r u trying to define, the poster of ur body or beauty of the building behind you?"
Well, the discussion didn't end here, on seeing the tweet by Sunil Grover, Chandan immediately replied, "Hahaha…paji my posture is bcoz of the beauty of the building…"
This conversation is all enough to say that the former colleagues are at least on the friendly track, unlike the relationship between Kapil Sharma and Sunil Grover.
Let us hope that both of them will somehow come again and entertain us just like they did during the Kapil's show.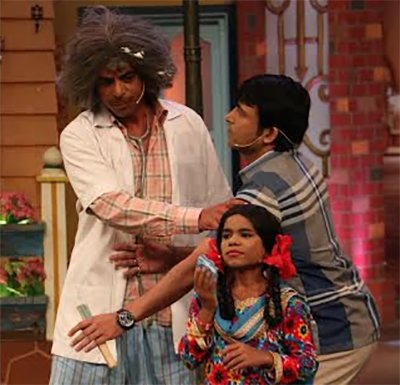 Back then we have seen Sunil and Chandan had a fight, now, it appears that they cleared the air between them, it's quite glad to see both of them like this.
Despite him leaving TKSS, Sunil has been always entertaining us in one or other way.
Related Article: Sunil Grover Finally Breaks The Silence In-Between Him And Kapil Sharma