India is known for its diverse culture and traditions and it's also known for preserving them well. Over the last few days, many of us had to address the legality, or illegality, of certain things. India has recently been on the forefront of unusual bans with the Government banning whatever goes against their cultural and religious norms.
India seems to be too obsessed with the word 'ban' nowadays. From movies to parties and food to laughter, everything or other we see around is somehow fallen under the category of word ban. With the newly elected government being in full action, these laws have been implemented at full speed.
In fact, 2015 has actually been dubbed the "Year of Bans" due to the subsequent number of weird laws being passed by the Government of India against the most mundane activities. As mentioned above, there are many things under the ban. It is a long list. Of course, there are many countries across the world that have witnessed some strange bans before, but this list is one you just can't miss.
Most of these laws made by the British according to the cultural norms of the 19th-century Indian society are archaic and weird. Although these strange laws need to be amended, unfortunately, they are enforced even today. Let us take a look at some of the strange Indian laws.
1. In Delhi, if you don't alert the authorities of a locust attack by beating a drum, you're liable to a fine of Rs.50:
According to the East Punjab Agriculture Pests, Diseases and Noxious Weeds Act, 1949, if locusts attack the city and you fail to report it to the authorities by beating a drum, you're liable to pay a fine of 50 rupees.
2. If you find more than Rs.10 just lying around, you're committing an illegal act by not reporting it: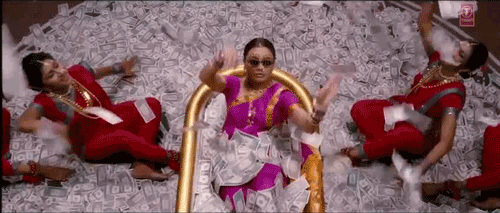 According to the Treasure Trove Act of 1878, any treasure you find belongs to the Queen. So it's only fair for them to ask you to report any money you find lying around, to the authorities. But if it's less than rupees 10, no need to inform. If it's a higher amount, you have to report it to the authorities.
3. Flying a kite without a permit is illegal:
According to the Indian Aircraft Act, 1934, you need to have a permit to make, possess or fly a kite just as one has to receive the proper permissions for a plane.
4. It's illegal for more than 10 couples to dance on the same stage together: This is according to the Prevention of Seditious Meetings Act, 1911, by which you can't gather in a public place with a large crowd if it's likely to cause a disturbance to people around the area without the required permission. Next time you plan a kick-ass Bollywood dance number for your friend's sangeet, it's possible for it to not go as planned.
5. It is illegal to get your ears cleaned or your teeth fixed by roadside vendors:
According to the Chapter V, Section 49 of the Dentist Act of 1948, street Dentistry is illegal in India. But, this particular law is important and makes a lot of sense. Most of these roadside vendors don't have the medical knowledge to perform such surgeries and might lead to serious injuries.
6. Suicide is legal, but attempted suicide is not: According to the now recanted Section 309 of the IPC, an attempt to suicide is punishable under the law. No wonder they had to put Irom Sharmila under house arrest and force feeds her. A lot of people are aware of this law due to the highly popularized arrest of Irom Sharmila for her hunger strike against AFSPA, which has been going on for more than 15 years, now.
7. It's illegal for factories to not have spittoons for the workers:
According to the Section 20 in The Factories Act, 1948, there must be a sufficient number of spittoons (receptacle made for spitting into) placed in convenient places in all factories. This is a perfect example of the law focusing on the least important issues.
8. Prostitution is legal in India, but pimping isn't:
There's a reason red light areas exist in certain cities and towns in India. You can pay someone for sex nobody can legally bother you about it, but if you approach a pimp or try to pimp someone else, you're in trouble.
9. It is illegal for factories to make women employees work at night shifts:
According to the Factories Act of 1948, it is also illegal to make women workers work night shifts? BPO employees, what do you have to say?
10. Oral sex is illegal in India:
According to the Section 377 of the IPC, not only is 'unnatural sex' decriminalized, but oral sex is also deemed illegal. Next time your partner asks you for this little favor, tell him/her you're bound by law to not go ahead with it.
So, guys, how are these weird laws in India? If you know more laws that are not mentioned here, share them with us in the comments section below.