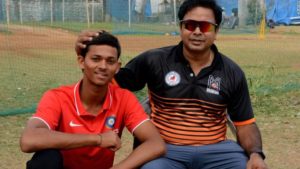 Yashasvi Jaiswal: Former Homeless Street Vendor Signs $327,000 Deal With Indian Cricket Team
Everyone works hard to live in the dreams that they once had, but not everyone gets to live in that big dream.
That was not the case for Yashasvi Jaiswal, a former homeless street vender from India, who is now the rising start of the Indian cricket team.
Yashasvi was just 8 when he had to leave his house to fulfill his dreams of becoming a professional cricket player in Mumbai.
The kid used to sleep in a tent on a cricket ground while sustaining himself as a street vendor before his talent was finally spotted, fast forward to 2020, he just secured more than $300,000 with Rajasthan Royals, an Indian Premier League Team.
During an interview with CNN, Yashasvi, said that the key to living in your dream is just to believe in yourself.
He added:
Work hard. When you leave the cricket ground and go home and sit on your bed, you should feel you've learned something.
Zubin Bharucha, the director of cricket for the Royals, the team Jaiswal will be playing for, said that he saw the kid at the team trials around 3 years ago.
During an interview with CNN, Bharucha said:
He walked across the stumps and flicked it over fine leg for four, and all of us just stopped, stared and wondered. There was something really special here.
At that time, Jaiswal was not signed, but years later, he came back stronger and more determined.
He is currently the left-handed batsman for the team and is one of the youngest to step on the court.
Who Is Yashasvi Jaiswal?
Yashasvi Jaiswal was born on December 28, 2001. He is an Indian cricketer that plays for the Rajasthan Royals and the Under 19-Team of India.  He is currently the youngest cricketer in the world to score a double century. He recently signed a Rs. 2.4 crore (USD 340,000) deal with the Rajasthan Royals and will be playing with the team in the 2020 IPL.
Jaiswal was born on December 28, 2001, in Suriyawan, Bhadohi, Uttar Pradesh, which is the most populous state in India. He is the 4th child out of 6 siblings. His parents are Bhupendra Jaiswal and Kanchan Jaiswal, they own a small hardware store in UP.
When he was just 10, he moved to Mumbai so he could receive training at the Azad Maidan. He worked as a shopkeeper at a diary shop, but was fired because he couldn't help that much because of his constant cricket training.
He had no place of his own that time, so the little one had to stay I na tent with the groundsmen at the Maidan, where he often slept without food. He also sold panipuri, a local dish in India, to have money for food.
After living in tents for 3 straight years, the talents of Jaiswal were spotted by Jwala Singh in December 2013. Singh ran a cricket academy in Santacruz and took the little kid under his wing. Singh provided him a place to stay and food. Singh is currently the legal guardian of Jaiswal, he got the power with a power of attorney.
7 Facts About Yashasvi Jaiswal
Born in Uttar Pradesh
Was once homeless
Used to sell paani puri
Was taken care off by Jwala Singh
He entered the record books at just 12
He is the leading scorer in Youth Asia Cup
He is listed in the Under 19 2020 World Cup