Twitterati Bursts With Hilarious Memes After PM Modi Met Trump! Check Out Some Most Creative & Funniest Memes Here!
On this world of Internet, memes have become the triggers for generating humor. No matter whoever the person can be, a prime minister, chief minister of a president, memes have their sense of attraction and value.
A little bit of political space and a merely happened incident is enough to let us feed on the creation of Internet memes. From awkward group photos and funny expressions — we keep reading viral stories and sharing viral photos; this is the only source of 'Good' entertainment for many of us, isn't it?
As many of us know PM Narendra Modi is on his leg for three-nation tour. And most recently he had a successful meeting with the US President Donald Trump at the White House. Yesterday, we have seen a funny video where American guard opens the car door expecting Mrs. Modi and it went viral on social media.
And now, the Indian Prime Minister is again on the Twitter trending with hilarious memes turning on his way. The main reason why both the leaders met was to discuss ways to eradicate Islamic terrorism. The discussion was all about a serious issue but caught the attention of many was the funny photo of the duo.
Yes, when Modi and Trump hugged each other, someone captured their pic and made it viral on social media. Since the time it's out, people are busy taking a jibe at the duo.
Too many memes, too many creative ideas and trolls, the Twitter had a field day with lots of captions running; they couldn't digest Modi's personal hug, due to which they came up with hilarious moments on Twitter.
Firstly, have a look at this epic picture: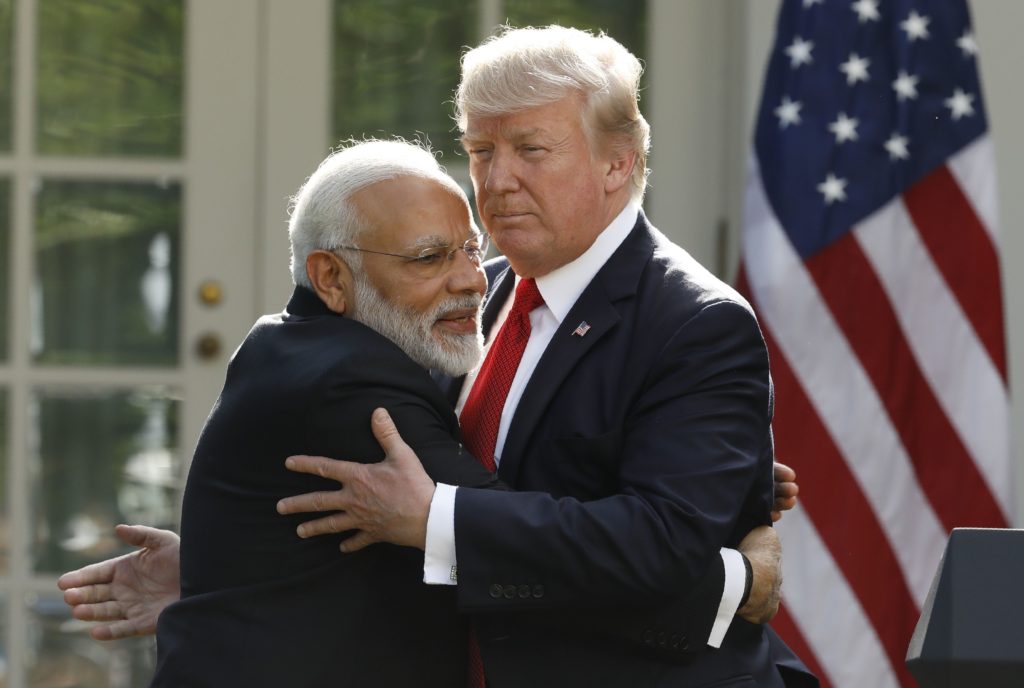 Here You Go! The Best Memes Of The Season:
2 minutes of silence!
"We Will Destroy The Radical Islamic Terrorism" -Says, US President Donald Trump. #ModiTrumpMeet #Trump

2 Mins Of Silence For #ISIS & #PAK pic.twitter.com/LkismKdxoL

— Sir Ravindra Jadeja (@SirJadeja) June 26, 2017
ROFL moment!
"Bhai thanks tune pass karwa diya exam mein" pic.twitter.com/m37VaAEVeV

— Pakchikpak Raja Babu (@HaramiParindey) June 27, 2017
The Friendship saga 😂😂😂😂😂😂#ModiMeetsTrump pic.twitter.com/aV4yrBhEMe

— Vigil Aunty ❎ (@famousaunty) June 25, 2017
Modi: Mere desh mein Opposition ko laga tha ki main Election haar jaunga.
Trump: Mere bhi.
Modi: Lol😂
Trump: ROFL 😂😂#ModiTrumpMeet pic.twitter.com/lq4G7YzD7K

— Subrat Saurabh (@ChickenBiryanii) June 26, 2017
Miyabhai ki daring!
Baniye ka dimaag aur Miyaan bhai ki daring…. #ModiTrumpMeet pic.twitter.com/bhN1tRlVsG

— The-Lying-Lama (@KyaUkhaadLega) June 27, 2017
Where's Bhabiji?
1 Modi's car arrives
2. Guard salutes
3. Goes to open the door for Mrs Modi
4. NO Mrs Modi 😢😢😢 pic.twitter.com/fOCugaAdS7

— Gabbbar (@GabbbarSingh) June 26, 2017
Bhabhi ji nahi aayi ?? pic.twitter.com/YJaiN3Ku6M

— Sarkarsm ✘ (@thebakwaashour) June 26, 2017


Hug Aasan!
Modi is Brand Ambassador of Yoga .. He is teaching Hug Aasan to global leaders .#என்னை_கட்டிப்பிடிக்க_ஆளில்லை pic.twitter.com/Mn7QWNeNIS

— Md Asif Khan (@imMAK02) June 27, 2017
Please Modi please!
Please modi please pl.. pl…. I have got my wife dear @SahilThoughts @dharmendra8055 @RaajnathSing @aapvind pic.twitter.com/saSxlCY3qF

— Rohit Sardana (@dev_pipal) June 27, 2017
When Modi met Trump!
#ModiTrumpMeet
When modi met Trump pic.twitter.com/KvA66MILYY

— काव्या!! #HTL (@Ek_Tukda_Ishq) June 27, 2017
Dhokla comment!
So nice of the the first lady to dress up as a dhokla. #ModiTrumpMeet pic.twitter.com/HSJYqHm3P0

— Bollywood Gandu (@BollywoodGandu) June 27, 2017
LOL, fidget spinner!
Modi Ji presenting the most effective Fidget Spinner made in India to Flotus & Potus, the one that makes you laugh instantly. #ModiTrumpMeet pic.twitter.com/mOeqbTheBK

— Яøÿ 🚩 (@MixedRaita) June 27, 2017
Too romantic!
Kitna haseen chehra, kitni pyari aankhen. pic.twitter.com/1wJt8oSJY7

— Ivan Mehta (@IndianIdle) June 27, 2017