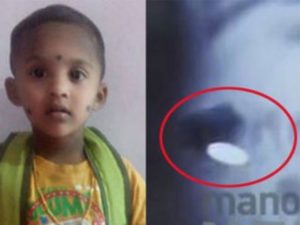 3-Year-Old Kerala Boy Dies After Swallowing Coin, Family Says Hospitals Did Not Treat Him
Kerala, India: A 3-year-old boy who died on Sunday last week was reportedly denied hospital admission by 3 government-run hospitals because of the coronavirus pandemic.
Prithviraj, the 3-year-old boy, was rushed to local hospitals by Raju and Nandini, his parents, in Aluva, Kerala, after he swallowed a coin.
The investigation will look into whether the child was denied treatment or if there was any negligence or error on the part of the hospital authorities.https://t.co/cjj58KYpQ4

— Onmanorama (@Onmanorama) August 2, 2020
The boy was refused admission as he came from Kadungallur, a COVID-19 containment zone in Aluva.
Reports suggest that the parents of the boy rushed him to a local hospital in Aluva on the morning of Saturday after he swallowed the coin.
An X-ray revealed the presence of the coin.
After being brought to a local hospital, the doctors said that there was no pediatric surgeon available, so they referred to him at the Ernakulam General Hospital.
At the second hospital, the doctors examined the child and ended up referring him to the Government Medical College Hospital, Alappuzha, for better medical care.
Dr. A Anitha, a Medical Superintendent at the Ernakulam General Hospital, released a statement about the incident, where they explained what had happened:
An X-ray was taken and the coin was found in his stomach and therefore was not a threat. The kid was not showing any breathing difficulty and seemed active at the time. Since there was no paediatric surgeon at the hospital, we suggested them to take him to the medical college and the family preferred to go to Alappuzha Medical College since it was closest. An ambulance was also arranged for their travel.
The third hospital did not admit the child.
The family of the 3-year-old boy said that doctors said that they should give their child bananas, which will help in bowel movement.
A day after going back home, the child's condition worsened, and he started crying.
The 3-year-old died en route to the hospital.
KK Shailaja, the Health Minister of Kerala, has asked the Principal Secretary (Health) to submit a report after a thorough inquiry.
Minister Shailaja said that strict action will be taken against the staff of the hospital if there are any lapses to be found.