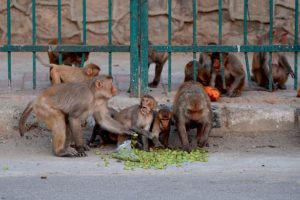 Officials In India Find More Than 30 Dead Monkeys Stuffed In Bags After Being "Poisoned To Death"
Another case of animal cruelty.
Horrified forest officials in India were left heartbroken after finding over 30 dead monkeys inside a bunch of bags.
Investigations revealed that the monkeys were poisoned to death.
The incident happened in Telangana, India, on November 17, 2020.
The forest department announced the incident a day after the discovery.
Officials said that the monkeys were stuffed in gunny bags after being poisoned.
Their carcasses were found on a small hill near the village of Shanigapuram.
The bodies were in a decomposing condition when they were found.
An autopsy could not be carried out due to the condition the monkeys were in.
A report that was published by the Hindustan Times said that the monkeys are believed to be poisoned to death.
The report added:
The monkeys are suspected to have been poisoned to death. As of now who has done this act is not clear. Whether farmers (to protect their crop) or someone else. We are inquiring," said the official when speaking to PTI over phone.
The authorities are now trying to find the people that carried out these horrible killings.
The authorities said that there were baby monkeys inside the bunny bags too.
What are your thoughts about this incident? Let us know what you think about it by leaving a comment in the comments section below!