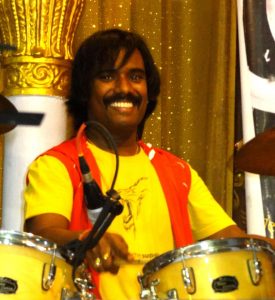 Drummer Sridhar – A Man of Inspiration is doing 48 Hour NON-STOP Drumming Blindfolded
Hello Everyone , Today we are going to know about B.Sridhar who is primarily a Drummer and he is  a recipient of Numerous Awards . Coming to Sridhar's Biography , Sridhar was born on 9th November 1981, to Mr. Balakrishnan and Mrs. Meenakshi. His Parents were doing farming for livelihood. The year 1998, brought a turning point in Sridhar's life. It was this year on the 5th of May; he started learning to play drums from the well known drummer Mr. Gopal. He developed a passion for drums and realized that drum beat is going to be not only his profession but his heart beat as well. Rigorous practice and determination to be a master drummer have led him to this limelight that he is enjoying now.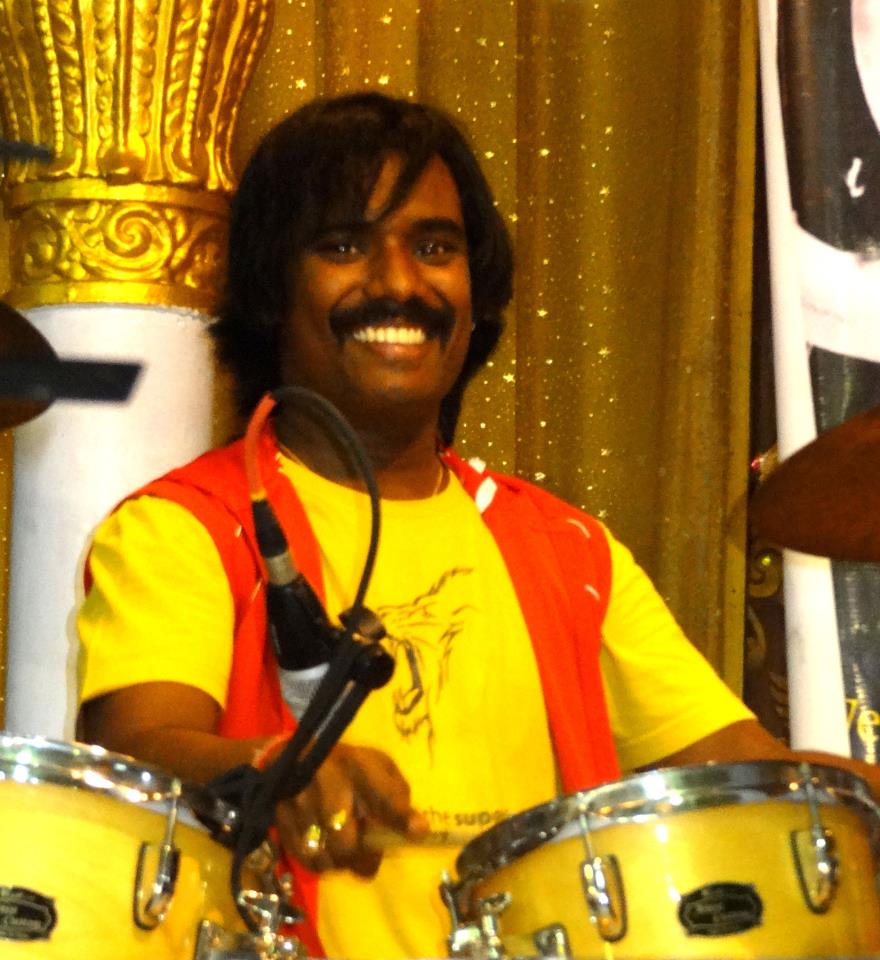 Drummer Sridhar
Drummer Sridhar has gained experience by playing for Mr.Y.G. Mahendran, Mr.Raghuraj  Chakravarthy (Late), Mr.Malarvannan, Mr.Embar Kannan and Mr.Paul Jacob (Music Director) .He is now playing for Abaswaram Ramji, Flute Navin, Thiruvarur Vaidhyanathan,  Dr."Ghatam" Karthick, Keyboard Sathya, D.A. Srinivas, Trichur Brothers and Mr. Thaianban.
Sridhar is running a music Troupe by name: Sukkiravaari". His drum beats have got him fans all over the world. His long feet desire was to play drums non-stop for 121 hours and to create Guinness record in playing drums. Sridhar is also a talented painter.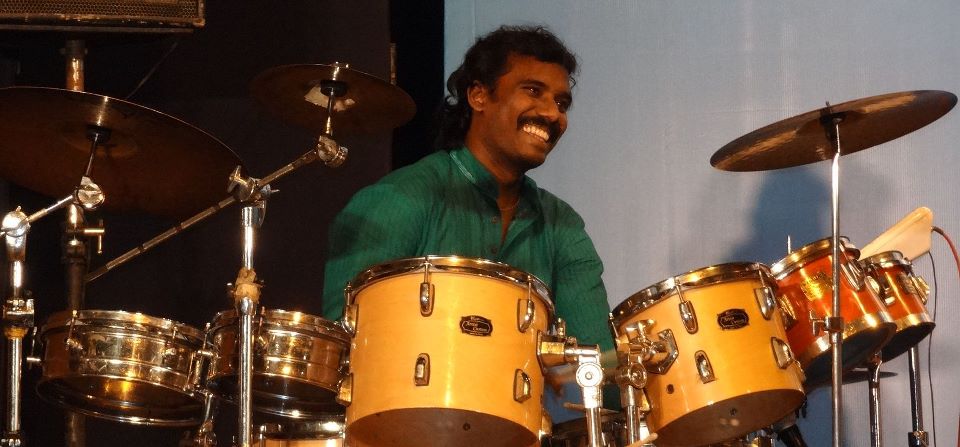 Drummer Sridhar 
Achievements ::
Sridhar's achievements have been recognized by the following institutions:
1.    Limca Book of Records
2.    Assist World Records
3.    Asia Book of Records
4.    India Book of Records
5.    Tamilnadu Book of Records
6.    Unique World Records
7.    Everest World Records
8.    Amazing World Records
9.    RHR INDIA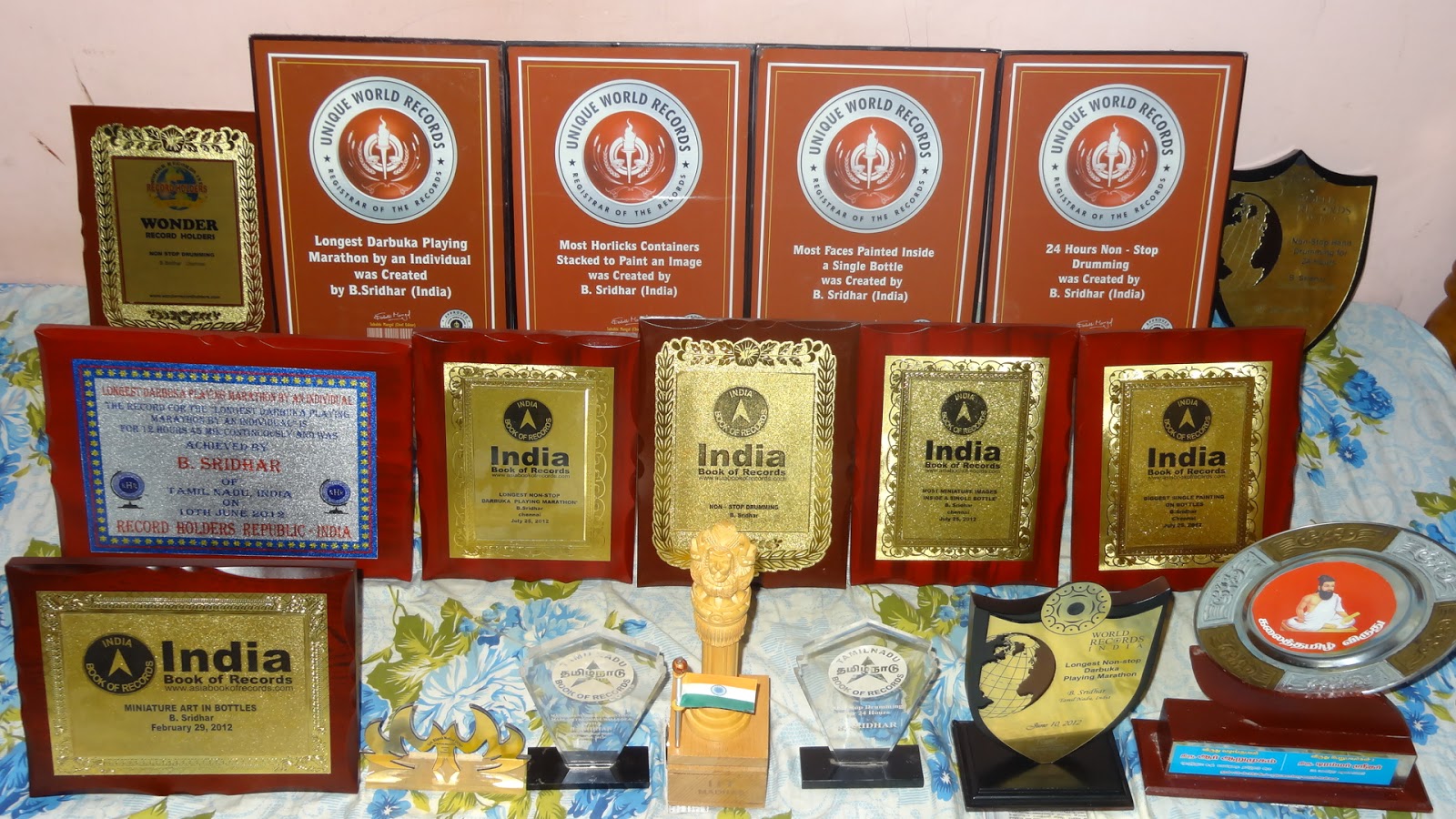 Some of the Achievements of Drummer Sridhar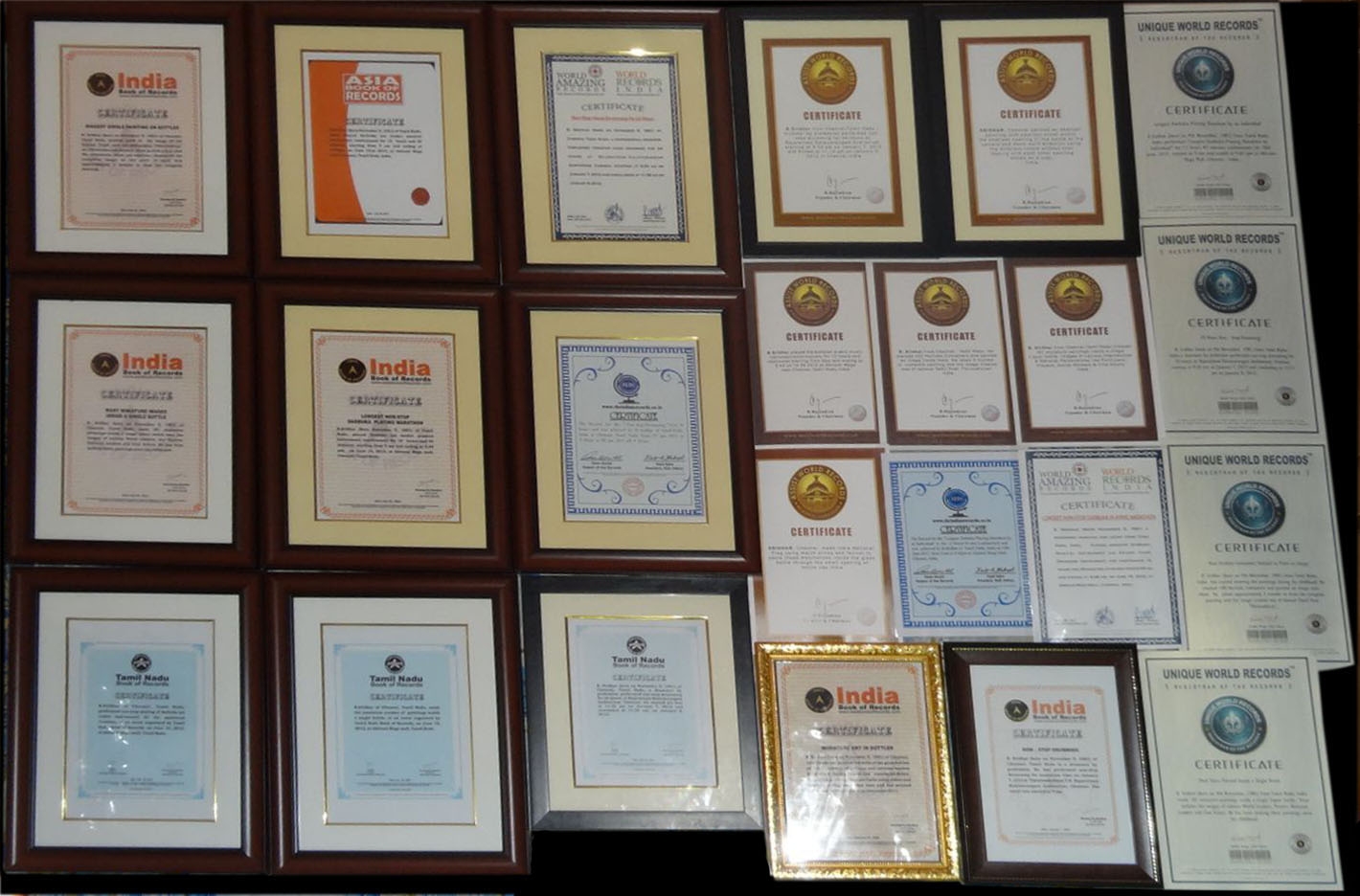 Some of the Achievements of Drummer Sridhar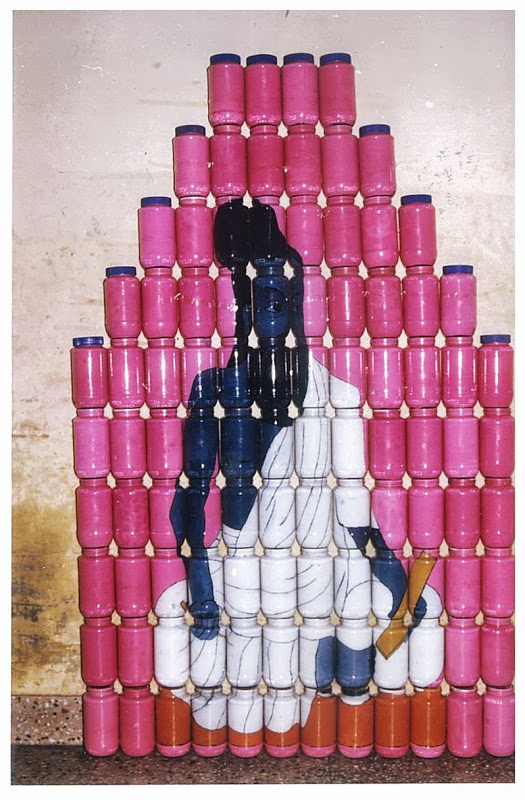 Paintings Inside the bottle were Entered In to the " Indian Book Of Records " 2013 Edition. This is Thiruvalluvar  Inside drawing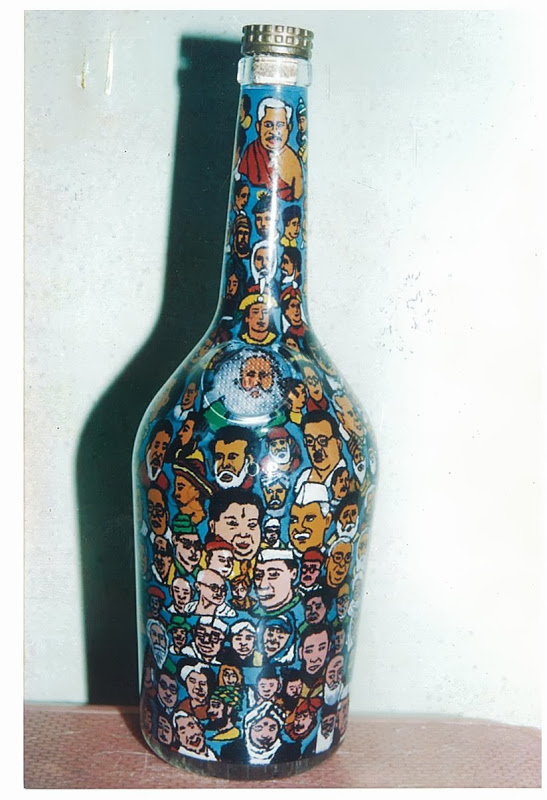 Inside drwaing of 1 Bottle Containing 181 Pictures , " Indian Book Of Records " 2013 Edition 
Some of his Unique Achievements are 
1) 12  HOURS  NON – STOP  DARBUKA  PLAYING ::
 Record Breaking events were held in Abirami Mall, Chennai, on 10th of June 2012. To encourage those people who were engaged in achieving their feats, Sridhar started playing an Arabic Instrument called Darbuka from 9:00 am to 9:45 pm non-stop. Rinki Tomar from Haryana, Asia Book of Records and Tamil Nadu Book of Records presented Sridhar Certificates for his tremendous feat.
2) 24 Hour's Non Stop Drumming ::
Sridhar's 10 year long dream was made reality by his wife Lakshmi. On 7th January 2012, at T.N. Rajarathnam Auditorium he made a record by playing drums, started at 9:30 am and ended at 11.15 am on 8th January 2012.The programme was flagged off by James Vasanthan, Ramji and Thaianban. Drummer Robert from Switzerland, music director sathya, Y.G.Mahendran, Rajesh Vaidhya and several other famous personalities attended the programme and blessed Sridhar.
This 24 hours feat was divided into equal parts of 3 hours each and in each concert different singers and orchestra song and played along with Sridhar and made the programme grand. CSS Corp had lent its support to this programme. Mr. Tiger Ramesh and Mr. Rajesh Kumar gave there ardent support to Sridhar in this programme and he will be forever indebted to them. The cosponsors of this programme were Shine Wall and S.M. Photos. In the last part of the programme several playback singers sang in the concert and encouraged Sridhar. His dream of 10 years was achieved, and the former South Indian Co-coordinator Dr. Venkatachari, on behalf of the India Book of Records, presented Sridhar the certificate of achievement. This feat was achieved despite several hurdles, difficulties and oppositions, he said, in his concluding speech.
FURTHER GOALS ::
Sridhar's Further Goal is to do a 48 HOURS NON – STOP DRUMMING –  BLINDFOLDED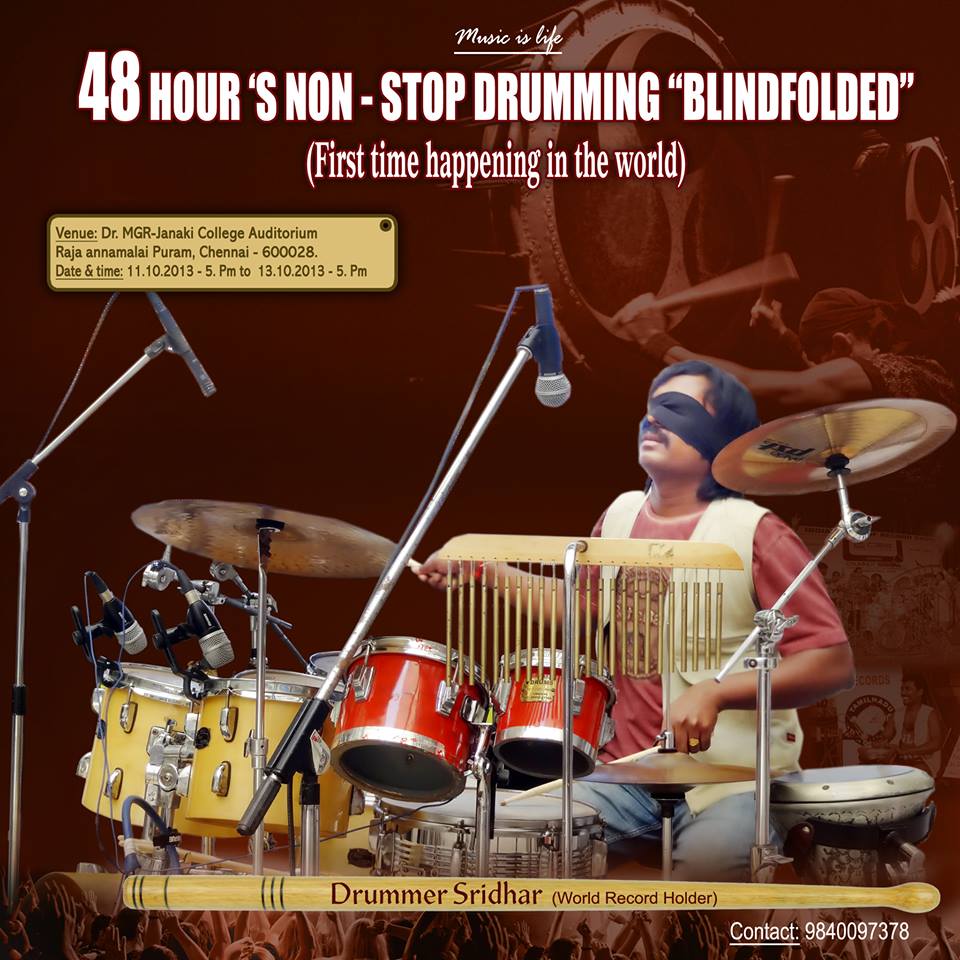 Drummer Sridhar – A Man of Inspiration is doing 48 Hour NON-STOP Drumming Blindfolded
To encourage the visually challenged to feel their handicap himself and to reveal it all, Sridhar has planned to play drums for 48 hours, blindfolded. His intention is to donate a part of the collected fund to the visually challenged..Title Sponsors and Co-sponsors are needed for this programme. You are requested to donate as much as you can for this. During this 48 hours programme, his Bottle paintings and egg paintings will be kept for display.
The 48 Hour Non Stop Drumming will be the first of its kind to be happening in the world .The event will be conducted at  Dr. M.G.R. Janaki College Auditorium , Chennai, Tamil Nadu, 600028 on the Date : Oct 11th,12th,13th. Please visit the venue and Encourage Mr.Sridhar. The Entry for the event is FREE.
Mr.Sridhar will be available on his phone : 9840097378
Your encouragement and support will definitely mean a lot to Mr.Sridhar . Kindly Support him