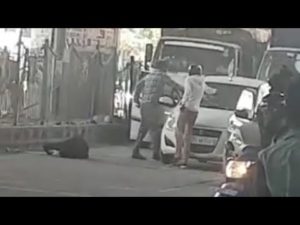 2 criminals killed in a shootout with rival gang members near the Dwarka Mor metro station
Parveen Gehlot and Vikas Dalal, 2 criminals, were killed in a shootout near the Dwarka Mor Metro Station in Southwest New Delhi, officials said that they were killed by rival gang members.
Vikas and Parveen had a number of murder, extortion, and robbery cases registered under their names in Haryana and New Delhi.
Authorities believe that the 2 criminals were killed due to a property dispute with a rival gang.
The shootout happened by 4 pm near the Dwarka Mor Metro Station, officials said that 3 men came towards the car that was used by Parveen and Vikas and fired directly at them.
The police said that 15 rounds were fired in total.
The police rushed to the spot by using a PCR Van and fired at the criminals, the police also managed to gun down one of the shooters.
2 people are currently being hunted in the city after they managed to run away from the scene, the police have identified the two.
A murder case has been lodged at the Bindapur Police Station.
Vikas Dalal has been on the run for almost one year, he managed to run away from police custody in Haryana.