Caught On Cam: Man Steals Ice Cream During National News Interview
The perfect crime exists, and it's not even a crime! It's a hilarious act that was caught on cam at the background of a national news report.
The entire ordeal was caught on cam and it was televised in the United States of America.
The incident reportedly happened to an ice hockey fan that supports the Carolina Hurricanes after their 8-2 win over the Ottawa Senators.
The Fox Sports news reporter was delivering his pitch to the camera without a problem when excited fans came and crashed the area.
But instead of concentrating on the interview, fans from all over the world got to witness an amazing moment.
As a reporter was interview a fan, who was holding an ice cream in his left hand, a fellow hockey fan leaned close to him and lifted the ice cream out of his hand and started to eat it.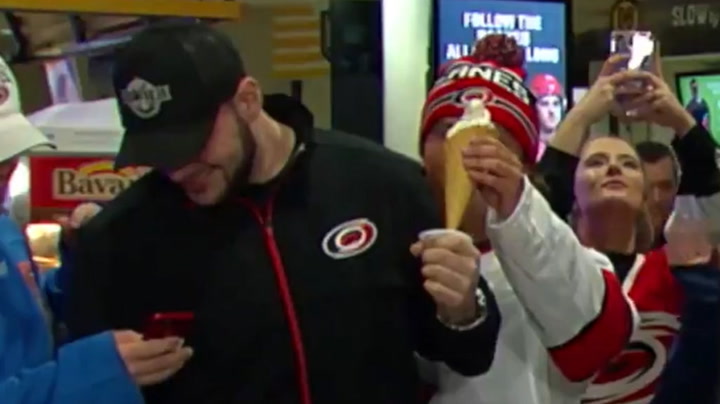 Believe it or not, the entire incident was caught on camera.
Weston Davis, the man who stole the ice cream, was caught on cam stealing the ice cream from his friend's hand.
After stealing the ice cream from the man, Weston took a huge bite and hid well before the right owner found out that his ice cream got stolen.
Weston ducked into the crowd and escaped the entire incident without being caught.
Except for us Weston, we saw what you did you cheeky man.
The entire interview was aired on Fox Sports, but a short part of the video is currently viral on social media and has been viewed millions of times on the internet.
ESPN and other sports channels were also impressed with the smooth criminal act of Weston.
At first, many thought that the entire incident was staged, but Weston came out and revealed that the owner of the ice cream that he stole was his close friend.
Weston said Joe Campen, the rightful owner of the ice cream, is his good friend and added that the stealing of the ice cream was not staged.
During an interview with a local news agency, Joe, the victim of the incident, said he did feel that someone was messing around with him, but ignored it.
Weston, on the other hand, said, "Joe and I are good friends. He was standing there behind the camera and I just thought I'd mess with him hoping maybe the camera would get a shot of it."
Real or not real, the 2 gave us a good laugh for a bit! Cheers lads.