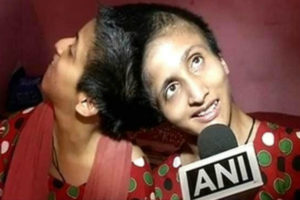 Conjoined Twins From Patna Gets Individual Voting Rights After 3 Years Of Waiting
23-year-old Sabah and Farah, the conjoined twins from Patna, can now vote as individuals. They voted in the 2015 assembly polls in Bihar as one and did not get independent voting rights.
Farah and Sabah live in Samanpura, the voted in the 2019 lok sabha polls as individuals.
Kumar Ravi, the District Magistrate of Patna, said, Farah and Sabah have different choices, minds, and opinions, and that's why they should not be denied of their individuality because of their physical condition.
And that is why Sabah and Farah were allowed to cast their votes individually.
Kumar Ravi, the district magistrate, said that Farah and Sabah were treated as a single voter because when someone has to cast a vote they need to make it in a secret way, and due to their physical condition, the polling officials believed that they did not have any privacy.
But this time, the conjoined twins were allowed to vote individually as the polling officials said that the twins are conjoined in a way that their heads are always in the opposite direction.
Farah and Sabah also attended the SVEEP (Systematic Voters Education and Electoral Participation) workshop that was held in the state recently.
The twins voted in the Patna Sahib Lok Sabha, they voted yesterday.
The story of Farah and Sabah was shared by the Election Commission on its Twitter account, the post had the hashtag #Chunavkikahaniyan.
Farah and Sabah were born in a poor family, the parents of the twins even brought them to AIIMS in New Delhi with hopes that they could get separated through surgeries, but their hopes were shattered after the doctors said the surgeries could not be done.
The Supreme Court of India directed the state government to give the family of Sabah and Farah monthly assistance of Rs. 5000, but the numbers were raised to Rs. 20,000 with the assistance of CM Nitish Kumar.