Twitterati Goes Berserk After Donkeys In This Village Are ARRESTED For Doing This Strange Thing
India is a country full of wonders, good-sometimes, and crazy other times. The recent incident that took place in Uttar Pradesh is a stud proof for this. This happened in Jalaun district, where a herd of eight donkeys was allowed to walk free after four days on confinement. The incident happened at the Urail jail, where the eight donkeys had been in lock-up for 4 days.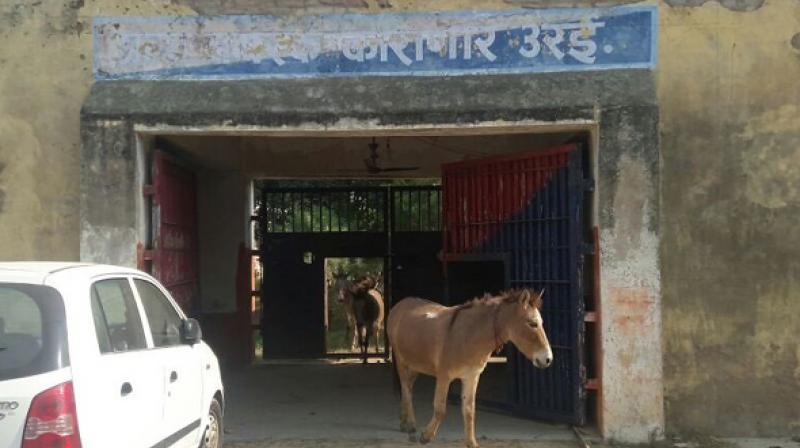 They faced such punishment for destroying expensive plants which the senior officer of the jail had arranged for planting inside the jail. Next, to the incident, a local politician intervened and insisted on their release, twitterati could soon be seen tweeting their minds on the social media.
Coming to the story, the donkeys were released today after four days of detention, they faced this unusual punishment for eating and destroying plants that were recently bought for Rs 5 lakhs. Check out the tweet here:
Jalaun(UP): Police release a herd of donkeys from Urai district jail. They had been detained for destroying plants outside jail and were released after four days pic.twitter.com/Wl5UJrU2tT

— ANI UP (@ANINewsUP) November 27, 2017
"These donkeys had destroyed some very expensive plants which our senior officer had arranged for planting inside the jail and despite warnings, the owner let loose his animals here so we detained the donkeys," Urai jail head constable RK Mishra said.
Watch the video here:
Check out how Twitterati has reacted:
Starting with sarcasm
Very good job sir, you may need to find some more donkeys who has destroyed our contry and they are still doing the same

— Rahul उर्फ़ Zimmy (@hellorahul09) November 27, 2017
Poor animals. 🙁 They've no clue why they were where they were.

— Nikhil (@red_devil22) November 27, 2017
The person who put donkeys in lockup he is the real gadha

— પાક્કો ગુજરાતી (@M4keval) November 27, 2017
— Cody Johnson (@oneandonlyCKJ) November 28, 2017
— चायवाला अनारक्षित मासूम (@HR20_) November 27, 2017
How did they specified these Donkeys name in FIR?

— Rahul उर्फ़ Zimmy (@hellorahul09) November 27, 2017
@adamgragg @oneandonlyCKJ @breillyce ….. we got out lucky this time boys….next time they may not be so easy on us

— Jeremy Carroll (@XxJCTheRipperxX) November 28, 2017
After facing the denial, he rushed to local BJP leader Shakti Gahoi for help. The BJP leader accompanied Kamlesh to the prison and secured the release of the donkeys after some hectic process and requests.
Related Article: Watch: Bizzare Accident In Hyderabad As Auto Hits Pedestrian In The Chest, Kills Him