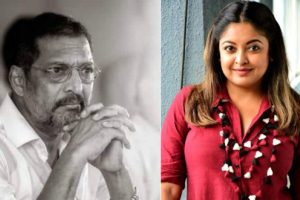 Nana Pateker cleared of sexual harassment case filed by Tanushree Dutta
Nana Patekar has been cleared out of the sexual harassment charges he was facing on Thursday.
The court concluded that they did not find sufficient evidence for the incident.
Tanushree Dutta, a former actress in the Bollywood Dutta, accused Nana Pateker of harassing her in 2008 while they were shooting for a song.
Nana Patekar denied the accusations that were made by Tanushree Dutta.
Dutta spoke out about the incident in 2018 after the #MeToo movement in the movie industry.
Tanushree, who is now 35-years-old, claims that 68-year-old Nana Patekar asked to add intimate dance steps in a song.
Dutta said she felt uncomfortable after she got to know about the request of her co-worker.
The actress also claims that Patekar threatened her after she rejected her.
During an interview with Mirror Now, Nana Patekar said, "What does she mean by sexual harassment? We were on the set and there were 200 people sitting in front of us."
The Mumbai police said that the court was unable to continue the investigation".
Tanushree Dutta made the allegations 10-years-ago, but the allegations came into light again in late 2018 after the #MeToo got trending.
During an interview with Radio 1 Newsbeat, Dutta said that the requests of Patekar were "really creepy because he had to put his hands all over me".
The actress said that she was also called as "unprofessional, crazy, drama queen, tantrum queen" after she walked off the set to protest about the requests.
Tanushree Dutta and her lawyer is going to file a petition to the Mumbai High-Court so they could reopen the case.