Happy Krishna Janmashtami 2019 Quotes, SMS, Greetings, Wishes, And Messages In Hindi And English For WhatsApp And Facebook
Happy Janmashtami 2019 is a Hindu festival that is celebrated by devotees to honor the birth (janma) of Lord Krishna. This day usually falls on the eighth day of the dark fortnight of the month of Bhadrapada, which is in August or September.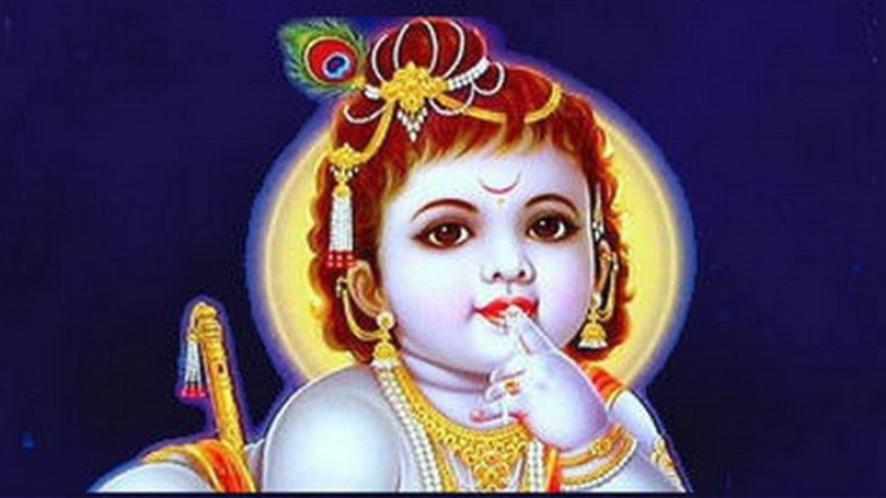 The eight-day also has another meaning, many believe that Lord Krishna is the 8 child of Devaki, the mother of Krishna Bhagwan.
The Janmashtami is highly celebrated in Brindaban and Mathura, Shri Krishan Bhagwan spent his childhood days in those days.
On the day of Janmashtami, devotees of Krishan Bhagwan keep a vigil and fast until midnight, up to the hour of the birth of Shri Krishan Bhagwan.
The statue or image of Krishna is then bathed in milk and water, it is then dressed in new clothes before it gets worshipped.
Temples and houses that are owned by devotees are decorated highly with leaves and flowers. Some devotees also hand out sweets to everyone to celebrate the birthday.
Devotees of Shri Krishan also act out the events of his birth by carrying out acting sessions.  Usually, devotees re-create where he was born, scenes of his childhood, and many more.
During the Janmashtami day, pots of milk are also hung from tall poles in the streets. Devotees then form human pyramids to break the pots. This is done to honor the childhood plays of Shri Krishan Bagwan.
A lot of devotees also go out on rallies in which they sing and dance in the streets.
Happy Krishna Janmashtami Quotes, SMS And Greetings WhatsApp And Facebook
जो है माखन चोर, जो है मुरली वाला,
वही है हम सबके दुःख दूर करने वाला।।
एक तरफ साँवले कृष्ण, दूसरी तरफ राधिका गोरी,
जैसे एक-दूसरे से मिल गए हों चाँद-चकोरी…।।।।
टकी तोड़े, माखन खाए फिर भी सबके मन को भाये,
राधा के वो प्यारे मोहन, महिमा उनकी दुनिया गाये.।।
श्री कृष्णा गोविन्द हरे मुरारी
हे नाथ नारायण वासुदेव…!!
"श्री कृष्णा गोविन्द हरे मुरारी हे नाथ नारायण वासुदेव…!!"
"छोटी छोटी गैयाँ छोटे छोटे ग्वाल, छोटो सो मेरो मैदान गोपाल…!!"
"मुरली मनोहर कृष्ण कन्हैया जमुना के तट पे विराजे हैं, मोर मुकुट पर कानों में कुण्डल कर में मुरलिया साजे है।"
"वृंदावन में रास रचाने, आ गया नन्द लाल कृष्ण कन्हैया।"
जय हो मुरली धर गोपाल की, जय हो कन्हैया लाल की।
कोई प्यार करे तो राधा-कृष्ण की तरह करे,
जो एक बार मिले, तो फिर कभी बिछड़े हीं नहीं।।
Happy Krishna Janmashtami  Wishes And Messages In Hindi WhatsApp And Facebook
श्री कृष्ण के कदम आपके घर आये,
आप खुशियो के दीप जलाये,
परेशानी आपसे आँखे चुराए,
कृष्ण जन्मोत्सव की आपको शुभकामनायें .
हैप्पी जन्माष्टमी
माखन चोर नन्द किशोर,बांधी जिसने प्रीत की डोर.
हरे कृष्ण हरे मुरारी,पूजती जिन्हें दुनिया सारी,
आओ उनके गुण गाएं सब मिल के जन्माष्टमी मनाये.
मंगल मूरत आपकी कृपा अपरम्पार;
ऐसे श्री कृष्ण जी को, हम सबका नमस्कार!
Aap par, aur app ke pure parivar par.
Hamesha bani rahe!
Mor mukut makar aakriti kundal Aur bajanti mala
Baso more nainan me nandlala.
Krishna Janmotsav ki aapko subh kamnaye…
Happy Janmashtami.
May Lord Krishna come to your house and take away all your Makhan – Mishri with all your worries and sorrows. Happy Janmashtami!
गोकुल में जिसने किया निवास, उसने गोपियों के संग रचा इतिहास , देवकी-यशोदा जिनकी मैया , ऐसे है हमारे कृषण कन्हैया! शुभ जन्मआष्ट्मी!
कृष्णा जिनका नाम , गोकुल जिनका धाम , ऐसे श्री कृष्णा भगवान् को हम सब का प्रणाम , जन्माष्टमी की हार्दिक शुभ कामनाएँ।
माखन चोर नन्द किशोर, बांधी जिसने प्रीत की डोर, हरे कृष्ण हरे मुरारी, पुजती जिन्हें दुनिया सारी, आओ उनके गुण गाएं सब मिल के जन्माष्टमी मनाये।
Happy Krishna Janmashtami SMS And Greetings In English For WhatsApp And Facebook
May Krishna shows you the way in your life as He showed the way to Arjuna in the battle of Mahabharata. – Janmashtami quotes
Have A Blessed Krishna Janmashtami!
It is very obvious that there will be the victory of truth always,
So always try to do the things told by
Krishna and behave like a lord Rama
WISH YOU VERY HAPPY JANMASHTAMI!
"Happy Janmashtami, May Lord Krishna showers all his blessings on you. May you get lots of happiness in life".
It is better to perform one's own duties imperfectly than to master the duties of another. By fulfilling the obligations he is born with, a person never comes to grief. – Bhaagvad Gita – Lord Krishna.
The mind acts like an enemy for those who do not control it. – Bhagavad Gita – Lord Krishna
As a human being puts on new garments, giving up old ones, the soul similarly accepts new material bodies, giving up the old and useless ones – Lord Krishna
Let's celebrate Bhagwaan Krishna's Birth. Sending you my heartfelt good wishes on this auspicious day of Janmashtami!
May Lord Krishna drizzle the entire benediction on you and your family at the festival of Janmashtami!!!
The only way you can conquer me is through Love and there I am gladly conquered.
Do everything you have to do, but not with greed, not with ego, not with lust, not with envy but with Love, compassion, humility, and devotion.
Among weapons I am the thunderbolt, among cows I am the wish-fulfilling cow called Surabhi, among serpents I am Vasuki, I am the progenitor, the god of Love.