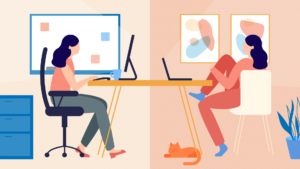 The best jobs for making money from home
 While there was a time when working from home was a dream, there are now many jobs you can do from the comfort of your home, which means you can be your own boss, choose when to work, and completely avoid the morning commute.
Here are the 8 most popular jobs to enjoy more freedom in your professional life while making money from home.
1# Affiliate Marketer
As an affiliate, you act as an online salesperson, earning commission from the traffic you send to the companies you work with, either via your social networks, website, video content, or any other way in which you can generate traffic. The trading world is a very profitable sector for affiliate marketing, with many popular Forex affiliate programs.
2# Web Developer
 With the development of the Internet and online business, web development has quickly become a popular field to work in. A web developer is responsible for turning a company's project into a website using the latest web technologies, based on the client's goal. There are three main types of developers (or "devs"): front-end, back-end, and full-stack. Front-end devs look after the technologies that are visible to the user (HTML, CSS, Javascript), back-end devs manage the databases and scripting, and full-stack devs can manage both types of technologies.
3# Copy writer
Copywriting is all about creating interesting and high-converting content that aligns with client guidelines and goals. All companies need copywriters to craft their sales messaging, whether it's for their website, brochures, YouTube content, or anything else that needs to be communicated to a potential client.
4# Translator
When exporting their businesses abroad, companies need to adapt their content to a new audience. Therefore, they need translators to translate their content. If companies want to go further, they can "localize" their content – converting their concepts and ideas into the appropriate equivalents in the target language.
5# Online teacher
Sharing knowledge and instructing are the core functions of a teacher, and with technological advancements, it is now possible to do it online. Distance education is no different from face-to-face teaching, as the mentioned characteristics are common to all teachers. However, this type of teaching allows a more diversified content offer.
6# Consultant
If you have a well-developed network and you're an expert in a specific field, you can become a consultant to give professional advice to companies (or individuals) in need of your area of expertise. The most common kinds of consultants are business, sales, marketing, accounting, content or legal consultants.
7# Social Media Manager
A Social Media Manager is in charge of the company's reputation on social networks – not to be confused with the community manager. Although the two jobs are complementary (and both can be done remotely), the social media manager is a decision-maker in the digital communication strategy of the company he/she works for, while the community manager only implements the strategy adopted.
8# Virtual Assistant
Virtual assistants are like any other assistants, but they work remotely and online. They can provide support services to any company that needs to cover a large range of activities, such as administrative, digital marketing, content creation or even bookkeeping tasks.