Elderly Man Says His 5ft Alligator Pet Has Helped Him Beat Depression And Being Lonely
A man who is 65 years old said that his 5ft massive alligator pet has helped him beat depression and become a better person in life.
This is unusual because most of us rely on dogs, pigs, or peacocks to help cope up with anxiety and depression.
But that was not the case with 65-year-old Joie Henney.
Henney says that Wally, the pet alligator that he has, helps him stay steady.
Henney said that he adopted Wally when he was rescued from a construction site in Florida.
When Wally was rescued, he was just 20 inches long, but now, he is 5 feet long and weighs around 60 pounds.
During an interview with WPIX, Henney said:
The longer I've had him, he just grew close to me. He took care of the problem. So we got him registered as an emotional support [alligator]. We got a letter from the doctor saying that it worked.
Wally lives in an indoor pond that is located in the living room of Henney. He lives with another gator.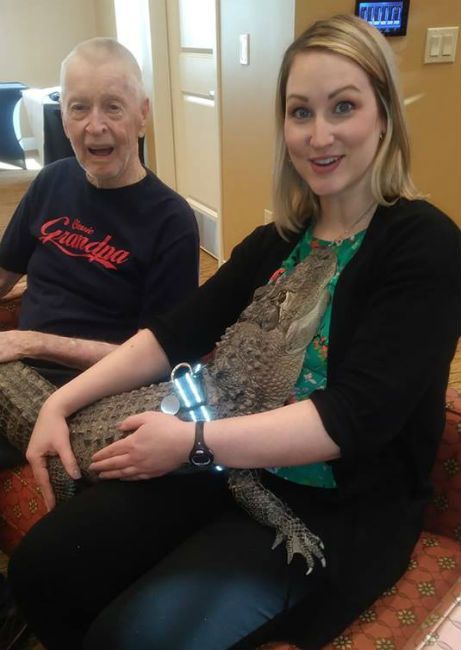 The best thing about this is that Wally also helps out other people.
Henney says that Wally visits schools, senior houses, and other special events.
Another good thing about Wally is that he had never tried or attacked anyone in his life.
Henney believes that Wally loves to be petted and being loved, just like a dog does.
But despite the fact that he has a pet dog, Henney says that people should not be keeping alligators as pets.
Despite the love that he and Wally have, Henney still considers his loveable pet as a wild animal.
Wally loves to enjoy watching Gator Guys, Swamp Boys, and The Lion King when he has nothing to do.
He also loves to play hide and seek.