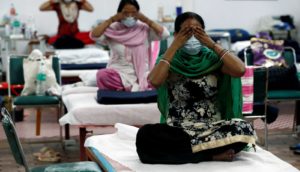 India Now Has Over 2.1 Million Coronavirus Cases With Over 43,000 Confirmed Deaths
India, the largest democratic country in the world, now has over 2.1 million coronavirus cases and over 43,498 deaths brought by the deadly disease.
India is currently the third country in the world with most of the virus cases, with the USA and Brazil leading the way.
The United States of America has over 5.1 million coronavirus cases with more than 165,000 deaths caused by the disease. Over 2.6 million patients have recovered in the country.
Brazil, the second in the list, has over 3 million confirmed cases with more than 43,000 confirmed deaths. More than 2 million people have recovered from the deadly disease.
India, the third in the list, has 2,156,756 confirmed cases of the deadly disease with 43,498 official deaths. The country has 1,481,825 recoveries with only 631,433 active cases.
The state of Maharashtra in India has the most cases in the country, with over 500,000, followed by Tamil Nadu, Andhra Pradesh, Karnataka, Delhi, and Uttar Pradesh.
India currently has an estimated population of 1.38 billion people.
On Friday this week, the Health Ministry of India said that there were over 62,000 reported cases of the disease in just 1 day.
It only took 3 weeks for the country to hit the 2 million mark, before that, the country only had less than 1 million.