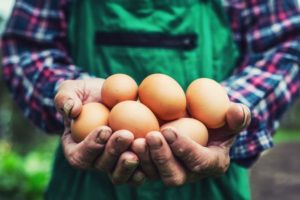 Indian Man Dies After Trying To Eat 50 Eggs In A Row To Win Bizarre Bet
A 42-year-old Indian man collapsed and died after he tried to eat 50 eggs in a row, just to win a bizarre bet that he had with his friend.
42-year-old Subhash Yadav and his friend went to the Bibiganj Market and argued about eggs, which led to a bizarre challenge.
The 2 friends ended up with a challenge with an Rs. 2000 cash price for the person manages to eat 50 eggs.
Unfortunately, this challenge was not made for Subhash.
During his 42nd egg, the 42-year-old collapsed.
Subhash was rushed to a local hospital before he was transferred to the Sanjay Gandhi Post Graduate Institute of Medical Sciences.
The medics were unable to save him, and the doctors reportedly told the reporters that Yadav died from complications that were caused by overeating dozens of eggs.
The family of Yadav refused to give a comment about the tragic incident.
No further details about the incident were shared with the public.
It is believed that the body of Yadav was returned to his family, so they could perform the last rights on him.