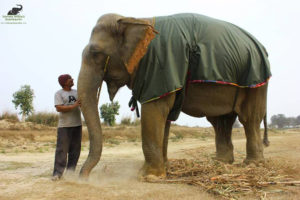 Indian Villagers Knit Giant Sweaters To Protect Sanctuary Elephants From Cold Weather
Villagers in Mathura, India, knit giant sweaters to protect sanctuary elephants from the cold winter of India.
People in Mathura are knitting sweaters for elephants at the Wildlife SOS Elephant Conservation and Care Center as part of a new initiative.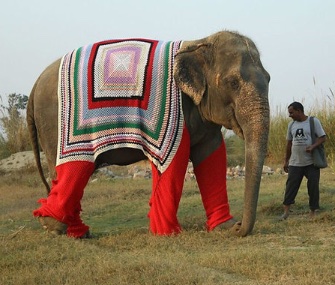 Villagers and the staff at the center knit massive sweaters for the elephants fight the freezing cold weather that hit Northern India.
The 20 elephants in the SOS Elephant and Care Center are blind, disabled, are living their last years.
Most of the elephants in the center were rescued from illegal captivity, illegal circuses, and animal trafficking.
Kartick Satyanarayan, the Co-Founder and CEO of the Wildlife SOS, released a statement about their kind act.
Kartick added, "It is important to keep our elephants protected from the bitter cold during this extreme winter, as they are weak and vulnerable having suffered so much abuse making them susceptible to ailments such as pneumonia. The cold also aggravates their arthritis which is a common issue that our rescued elephants have to deal with."
The sweaters are going to help make sure that the animals stay warm during the wintertime.
Wildlife SOS helps offer open spaces, frequent baths, top-notch medical care, plentiful food, and love for all.
To learn more about Wildlife SOS, you can visit their website by clicking here.