Orphaned Baby Elephant Learns How To Grip Own Feeding Bottle
A video that is viral in the internet right now shows the amazing moment an orphaned elephant tried to master holding their own milk bottle.
Watch the video below:
The video that we are talking about was captured by the Sheldrick Wildlife Trust in Nairobi.
It shows Bondeni, a 2-year-old elephant, trying to hold onto the bottle full of fresh warm formula milk.
He did it with the tip of his trunk.
According to official reports, Bondeni arrived at the Kenyan Animal Rescue Centre as a newborn in the year 2019.
The video was shared on Twitter along with the caption:
He might be little but Bondeni is big on personality and bravado – watch him try and be a big bull and hold his milk bottle all by himself. He's an orphan in the care of our nursery.
In 2019, the elephant was brought to the rehabilitation centre after he was seen wandering alone into a village that is bordering the Chyulu Hills.
The feet of the elephant had a number of lacerations and had to be nursed back to help by officials at the Kaluku Field HQ of the centre.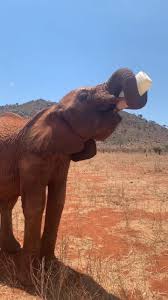 Because of the lacerations, the elephant had a hard time walking, but luckily they recovered and are now all fine.
Such an adorable moment!
What are your thoughts on the video? Let us know what you think about it by leaving a comment in the comments section below!