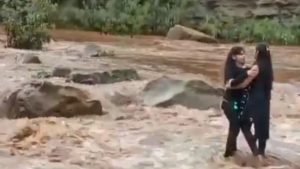 Police Officers Risk Their Lives To Save 2 Dumb Women Who Got Stuck In A River While Taking Selfies
Police officers of the Madhya Pradesh Police Department risked their lives to save 2 dumb women that got stuck in a river as they took selfies in it.
A group of police officers and locals launched a rescue operation for the women, risking their lives to save the women.
According to reports, the incident happened in the Chhindwara district of Madhya Pradesh.
It has been reported that a group of 6 girls, who are all from Junnardeo went on a picnic on the banks of a river Pench.
Megha Jawre and Vandana Tripathi, the 2 women that got stuck, reportedly walked to the middle of the river and climbed on a rock so they could take selfies.
However, the flow of the river raised and left the girls stranded.
The other girls ended up calling the local police, who had to carry out a rescue operation.
A video of the girls stuck on the rock is viral on social media right now.
The police officers could be seen forming a human line while holding each other to reach to the girls and rescue them.
12 police officers, locals, and other security officers rescued the girls successfully.
The girls and the officers did not sustain any injuries from the incident.