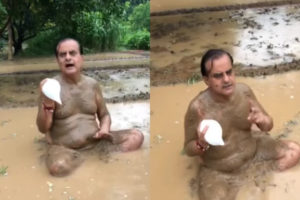 Politician Who Said Bathing Mud And Blowing Conch Shell Will Boost Immunity Against COVID-19 Contracts Disease
Sukhbir Jaunapuria, a politician from India, who posted a video on the internet showing him sitting in a pool of mud along with a conch shell and claimed that it will help keep the deadly disease away has contracted the virus.
It was reported that he tested positive for the disease on September 14, 2020.
According to local media reports, Sukhbir tested positive on Monday, he is one of the 24 members of the parliament that tested positive for the coronavirus.
A month prior to the results, Sukhbir Jaunapuria, an MP from Tonk–Sawai Madhopur constituency in Rajasthan, uploaded a video on Facebook and claimed that mud and blowing a conch shell will boost your immunity.
In the video, he said:
Go out, get wet in the rain, sit in the dirt, work on the farm, blow a conch … and eat 'desi' things. One gains immunity from doing these things.
It is not known if Sukhbir was brought to a hospital for treatment.
Our thoughts and prayers are with the politician, may he recover from the deadly disease fast!