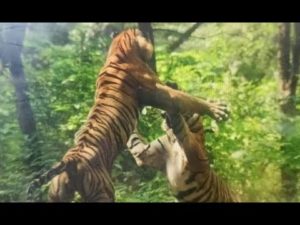 Caught On Cam: 2 Tigers Fight Over A Tigress In Ranthambore National Park
Caught On Cam: A video of 2 tigers fighting over a tigress has gone viral on social media, and it shows T57 and T58, the 2 tigers, pawing and roaring on each other.
The incident happened at the Ranthambore National Park in Rajasthan, and it was shared by Indian Forest Services Officer Parveen Kaswan on Twitter.
That is how a fight between #tigers looks like. Brutal and violent. They are territorial animals & protect their sphere. Here two brothers from #Ranthambore are fighting as forwarded. (T57, T58). pic.twitter.com/wehHWgIIHC

— Parveen Kaswan, IFS (@ParveenKaswan) October 16, 2019
Officer Kaswan said the fight was against 2 tigers who are actually brothers.
T57 is named as Singhsht and T58 is named as Rocky, they are the sons of Sharmili, a tigress, who lives in the Jaisinghpura area of the park.
The 2 brothers were fighting for T39, a tigress named Noor.
The video that was shared by Officer Kaswan showed one of the tigers sneaking up behind the other tiger before the fight started.
The one-minute-long video was has been viewed by over 34k people on Twitter.
According to Officer Kaswan, Singhshth won the fight and added that no one was seriously injured in the incident.
Officer Kaswan said, "As many are asking about the results. T57 won. Nobody is seriously injured. It was for the tigress T39. Which can be seen there in the video."
What do you think about this rivalry between the 2 brothers?