Bitcoin Trader In India Commits Suicide After Being Threatened By Deputy Superintendent
Bharat Patel, a Bitcoin trader who lives in India, took his own life after he was threatened by a police officer. Patel was threatened by the officer after losing some Bitcoins in trading, Patel used to trade for the police officer.
Patel committed suicide on Sunday, officials said that he left a suicide note for his wife.
In the suicide note that was left by Patel, he revealed how Deputy Superintendent Chirag Savani, from the Narmada Police, and Harnish Savani, the brother of Chirag, threatened him after losing some Bitcoins and other Cryptocurrency's.
Patel added that the brothers only bought 5 Bitcoins, but were demanding around 12 Bitcoins in return.
In the suicide note, Bharat said, "DSP (Deputy Superintendent) Chirag Savani had come to my house to invest in five bitcoins. After incurring a loss due to slide in their value, Chirag and his brother Montu [Harnish] were demanding 11.575 Bitcoin. I am distraught due to the recovery they are claiming. My life is not worth living. DySP Chirag Savani came to my house and threatened me to return the amount they had invested. I have been forced to commit suicide. The two brothers (Chirag and Harnish Savani) are responsible for my actions
."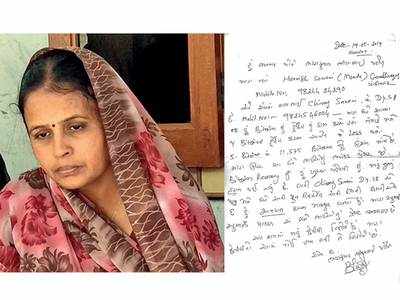 Darshi Patel, the daughter of Bharat Patel, is now demanding to suspend DSP Chirag Savani from his duties.
Darshi fears that the evidence that the police gathered from the scene will be destroyed, as the investigating team took his father's phone, laptop, and other things.
She said, "We fear that the evidence in these devices will be destroyed. We seek assurance from some top police officers that a fair probe will be conducted in the case."
Even after the death of Bharat Patel, the family claims that they are still receiving death threats from the police officer and his brother.
Darshi added, "We received two calls from Savani's number even after my father's death. The police asked us to switch off the mobile and not take any calls from them."
The police have launched a probe for the incident, the police have sent the note that was left by Bharat for a handwriting authentication.