3 Tons Of Cocaine Worth €100 Million Seized From First Ever "Narco-Submarine" In Spain
Authorities in Spain have seized 3 tons of cocaine that was being smuggled in a "narco-submarine" and have avoided the huge shipment from ending up in the streets of Britain.
According to the National Crime Agency of the UK, a 20-meter semi-submersible craft was stopped by authorities off the coast of Galicia in West Spain on Sunday.
The seizure was made after a joint operation with police forces from the US, Brazil, the UK, and Portugal.
The cocaine is reportedly worth hundreds of millions of pounds.
During the raid, authorities arrested 2 crew members of the narco-submarine. The 2 men tried to leave the sub by swimming away. A third crew member of the sub managed to get away, the police are trying to track the person down.
One person was arrested wearing a wetsuit, while the other one was captured after the haul. The whereabouts of the third person are still unknown.
The statement said, "The investigation into both the origin of the drugs and the gang that was set to handle them in Spain is ongoing."
The statement added, "Although the use of these submarines is very common in the Americas, this is the first time that such a transportation system has been used [here]."
Tom Dowdall, the deputy director international of the NCA, said, "It is highly likely a lot of this cocaine would have ended up on the streets of the UK, fuelling serious violence and impacting on the most vulnerable members of society."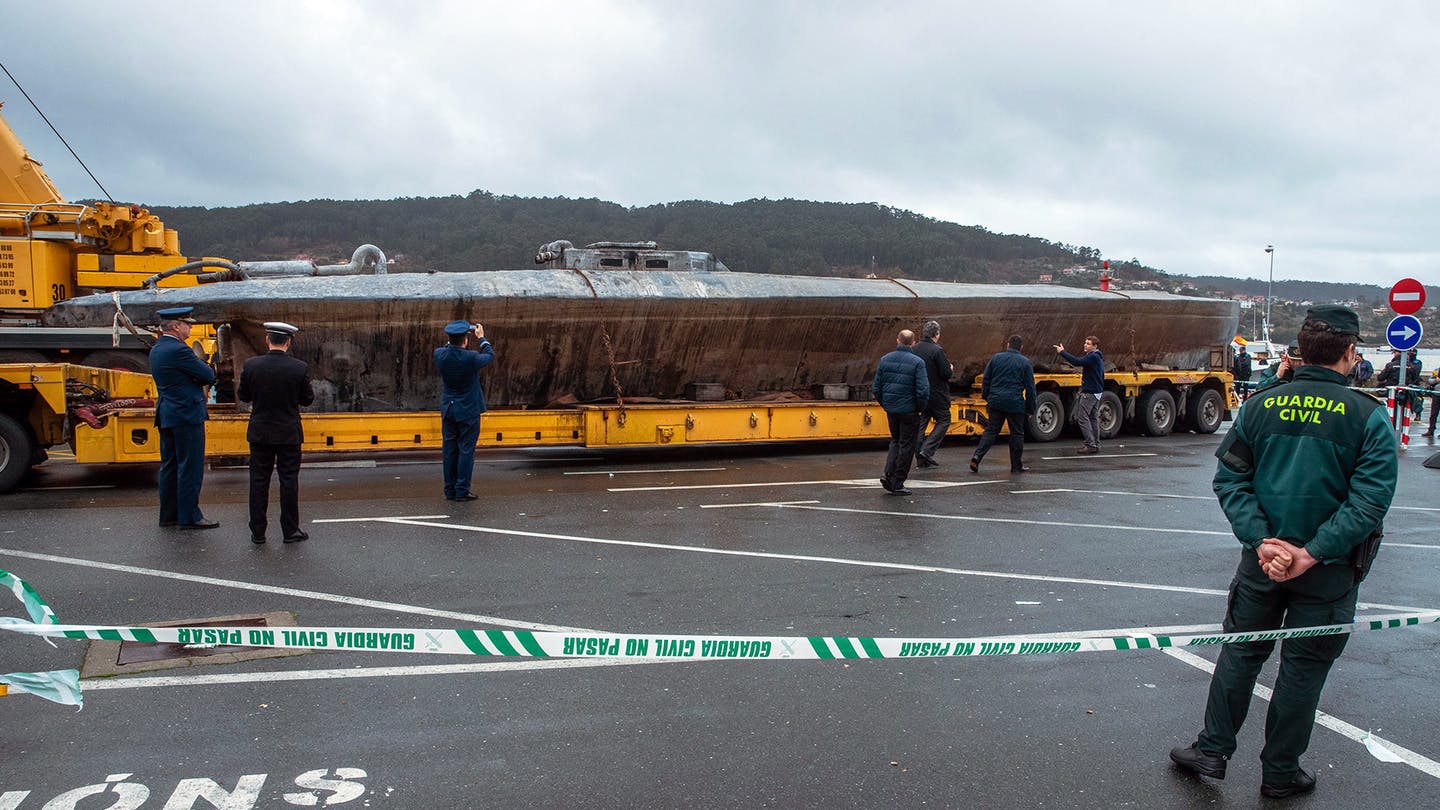 Tom added, "Seizures like this are vital in disrupting and dismantling transnational crime groups trafficking deadly drugs, and ultimately protecting the public from the damage they cause."
The Guardia Civil released a statement about the haul.
The statement said 3,000 kilograms of cocaine that were divided into 152 bales were removed by the authorities.
The narco-sub is currently in the port of Aldan in the Galician province of Pontevedra.
The operation started after the Maritime Analysis and Operation Centre of the EU told the counter-terrorism and organized crime intelligence center of Spain that a craft carrying cocaine was crossing the Atlantic Ocean.
The center said the submarine was headed for Spain.
A statement said, "Conditions at sea meant that the semi-submersible wasn't able to deliver the drugs to a second vessel."
The statement added, "Its crew members then headed towards the coast, where they scuttled and abandoned the vessel. The maneuver was detected by a Guardia Civil patrol using night-vision goggles, who then noted the boat's arrival point and the subsequent fleeing of its crew."
An air-search was launched after the incident and officers were sent to reinforce presence around the Galician coast.