Left Alone In The Cold: Alcoholic Parents Abandoned 18-Month-Old Daughter In Street With Vodka In Her Bottle
An 18-month-old girl in Ukraine was abandoned on the streets by her drunk parents for 5 hours.
The parents left the girl with a bottle, which had vodka inside it.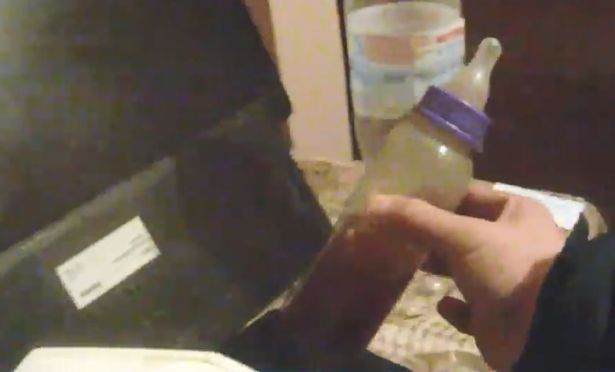 The baby was found lying barefoot in a dirty pram on the outskirts of Lutsk, northwestern Ukraine.
According to the police, the bottle of the girl had tea mixed with vodka inside it.
The police believe that the parents used this mix to put her to sleep.
The child was found around 1 mile away from a social housing hostel where she lives with her mother and father.
Her parents, whose identities were not shared with the public, left the baby on the path when they were on a walk.
The girl stayed in the cold for 5 hours before her loud cries were heard by a male passerby, who turned out to be the neighbor of the baby's parents.
The kind man took the girl back to the hostel and handed her back to her godmother.
The godmother of the girl said, "I was shocked to see [her] wearing only a T-shirt and pants. Her bare feet were blue from cold. When I opened her bottle and sniffed it, I felt the strong smell of vodka."
The godmother fed the girl and called the police afterward.
Officers took the child to the hospital where she was examined and diagnosed with pneumonia.
Tetyana Yatsyshyna, a doctor from Lutsk Regional Infectious Diseases Hospital, released a statement about the condition of the girl
Dr. Tetyana said, "The girl's condition is moderate. An X-ray showed she has pneumonia."
The police found the parents of the 18-month-old girl near a gas station.
The police said, "We learned the parents' whereabouts from one of their drinking partners. We found them in a cafe near a gas station."
The police added, "They were heavily drunk and said they 'forgot' about the child. They also could not remember where and when they saw the girl for the last time."
The police filed a criminal case against the parents of the little girl for failing to fulfill parental duties.
Fedir Shulgan, the head of the local child protective services, released a statement about the incident after they were informed about the ordeal.
Fedir said, "We learned about the family only recently after receiving a police report. We are going to monitor the parents to make a decision on the child's fate. The girl will be placed in care once she is discharged from the hospital until the decision is made."
If found guilty in child negligence, the parents of the girl could spend 5 years in prison.