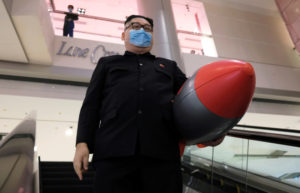 North Korea Finally Admits That Kim Jong-Un Cannot Bend Space And Time
North Korea has admitted that Kim Kong-Un, the leader of their country, cannot bend space and time.
The news was announced through its state newspaper, the Rodong Sinmun.
This week, the newspaper denied that the Kim family are masters of the chukjibeop, which is a hypothetical method of folding space to cover a great distance in a short period of time.
North Korea has credited its leaders as possessing this ability as one of the many myths that have been used by North Korea to deify their leaders.
The Rodong Sinmun said:
In realistic terms, a person cannot suddenly disappear and reappear by folding space.
According to The Telegraph, an official at the South Korea's unification ministry said that the current regime's trend of demystification is noteworthy.
The official said:
It appears to stress patriotism and love for the people rather than the mystification of the leaders.
It is reported that Kim has been more focused on showing his human side after a failure to reach an agreement in a second summit with the United States President Donald Trump in 2019.
Urging the people of North Korea to avoid the mystification of their leader after their negotiations with the United States of America broke down, Kim, their leader, said:
Mystifying a leader's revolutionary activity and appearance would result in covering the truth. Absolute loyalty would spring up when (they) are mesmerized by the leader humanly and comradely.
A couple of weeks ago, it was rumored that Kim has died after botched up heart surgery, however, he shocked the world after he made his first public appearance.
According to the state news agency KCNA, the North Korean Dictator attended the unveiling of a new fertilizer plant in Pyongyang, the capital of the country.
That was the first report of their leader's movements since April 11, 2020.
The news report claimed that Kim also attended the ribbon-cutting ceremony on Friday April 30, 2020.
People that were present at the ribbon-cutting ceremony burst out into thunderous cheers for the Supreme Leader of the country.
Kim, who was there with several of his government officials, stated that he was extremely happy with the new factory and that it had represented the progress being made by the country.
Not to be rude, but I think it was pretty obvious that the Supreme Leader of North Korea could not bend space of time.