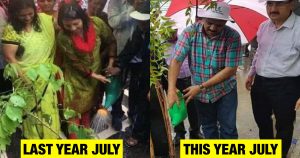 Mumbai MLA Waters Plants In Rain, Twitterati Goes Trolling The Picture Of The Same
Take any unique photograph and post it on social media, especially Twitter, that's all enough. Twitterati now perfected the art of triggering humor from any kind of picture. Now imagine what happens when the picture itself is showing the mundane nature of the politicians? Well! one doesn't have to put any efforts in trolling such things.
Earlier back in 2016, a photograph of the Mumbai's Vasai-Virar Mayor Pravina Thakur watering plants went viral. Well, she was watering plants standing in heavy rainfall with people around her shielding her and themselves from the downpour. Keeping the legacy intact, this time a BJP MLA from Mumbai, Narendra Mehta, decided to show his environment-friendly side and took to watering plants.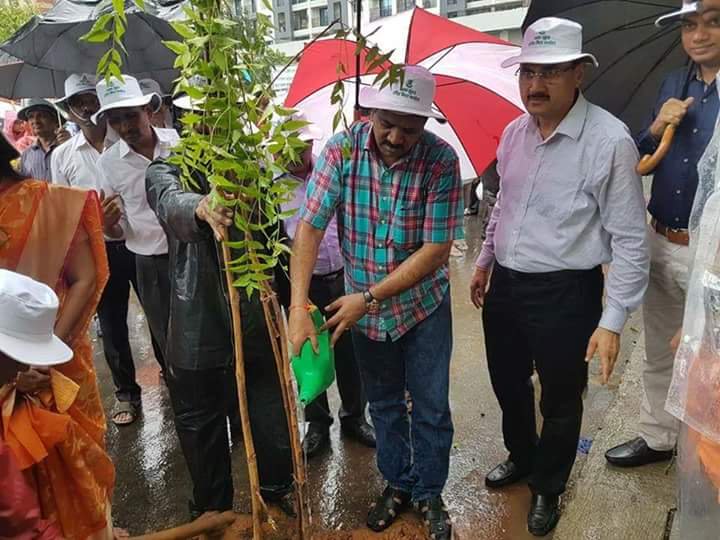 A similar incident now surfaced the Internet. It looks like, Narendra Mehta, a BJP MLA from Mumbai has decided to maintain that legacy. Recently, in a bid to showcase his environment-friendly side he watered plants while it was heavily raining.
And voila! That is enough for the day, as soon as the picture is shared on Twitter, netizens went berserk over trolling the same.
A Twitter user named Kapil shared the photo keeping it simple with the caption "BJP Mira Bhayandar MLA Narendra Mehta watering plants in heavy rain."
BJP Mira Bhayandar MLA Narendra Mehta watering plants in heavy rain. pic.twitter.com/EQJSgVXjyI

— Kapil (@kapsology) July 2, 2017
Though it was unclear when the picture was clicked, ever since it was posted, there has been no looking back for many on Twitter, it went viral after the popular troll Facebook page Unofficial Subramanian Swamy shared it there.
Go through the Twitter reactions here:
AAP MLA Alka Lamba watering plants in heavy rain. pic.twitter.com/Li12Vhxfti

— Bhagaliyat 🚩🚩🚩 (@BUnlimted) July 2, 2017
Kapsology unhi laundo mein se hai jise ladkiyo ki galti nhi dikhti 😂😂😂😂

— Office Of RG (Pappu (@Roadside_Monk) July 2, 2017
"I don't like your tweet. I am not comfortable with it. Please delete it." Tweet karega 😂

— Bhagaliyat 🚩🚩🚩 (@BUnlimted) July 2, 2017
Sabse phle rt alka lamba ka hoga 😂
Or vo apki tweet quote karke bolegi
Fir file kar rahi hoon..

— Office Of RG (Pappu (@Roadside_Monk) July 2, 2017
hahahaha this irrigation is better than the one v saw by @RadhamohanBJP 😂

— Arnaz Hathiram (@Milkyway1955Z) July 2, 2017
Everyday Bhakts proves why they r internationally acclaimed ISO 9001 certified Bhakts..

— Intekhab Alam (@Bhola4U) July 3, 2017
Hight of insane love for Camera 😝

— K Padma Rani (@KPadmaRani1) July 2, 2017
@vanshji @harishbhatt89 pic.twitter.com/GNSiRLv4jN

— Sushant (@SuTanejaz) July 2, 2017
Meanwhile, check out the Facebook comments: