ICC Release Says India Ranks Number 1 In ICC One-Day International Ranking
India overtakes England as the new top-ranked ICC ODI team in men's cricket in the world. England entered the ICC 2019 World Cup as the number one One-Day International team, but after three huge defeats in the World Cup, the team has dropped a rank.
This is all thanks to the unbeaten record of India in the 2019 ICC World Cup, India won 4 out of their 5 games in the tournament, one was called off due to rain.
Here is the official table of the new ICC ODI Rankings: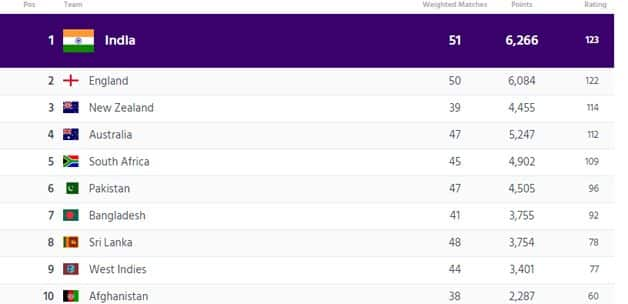 India has 123 points and is sitting at the top spot, while England is at the second with 122 points, New Zealand at third with 114 points, and Australia at the fifth place with 112 points.
India still needs to win one match so they could secure a safe spot in the ICC 2019 World Cup Semi-Finals.