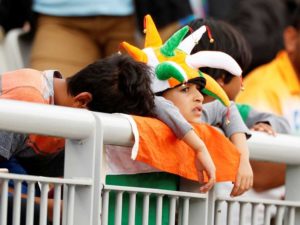 Indian Cricket Fan Consumes Poison After India Lost To New Zealand In World Cup Semi-Finals
A die hard cricket fan from Odisha tried to commit suicide after team India lost in the World Cup semi-finals round to New Zealand by 18 runs.
Officials said that the man consumed poison after the defeat of India.
The incident happened in Dharamgarh in Kalahandi.
The man, whose identity was not revealed, was brought to a hospital nearby after he took the poison.
Doctors and officials confirmed that the man is now in a stable condition and is out of danger.
CDMO (Chief District Medical Officer) Banalata Devi said that the teenager was rushed to a hospital in the city after he consumed poison.
The officer added that the teenager was diagnosed with poison in his stomach.
India lost to New Zealand with 19 runs in the semi-finals match of the Cricket World Cup 2019.
India had to score 240 runs in 50 overs, but India was done in 49.3 overs with just scoring 221 runs.
The final of the 2019 world cup will be held on Sunday.
England, the hosts of the world cup 2019, will be playing against New Zealand in the Final.