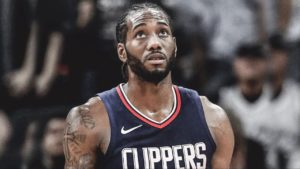 Los Angeles Clippers Sign Kawhi Leonard And Land Paul George In Blockbuster Trade
League sources confirm that Kawhi Leonard has agreed to sign with the Los Angeles Clippers.
The news was first reported by Chris Haynes of the Yahoo Sports.
Free agent forward Kawhi Leonard will sign with the Los Angeles Clippers, league sources tell Yahoo Sports.

— Chris Haynes (@ChrisBHaynes) July 6, 2019
Kawhi Leonard averaged 26.6 points per game last season and shot 49.6 percent from the floor in 60 regular-season games.
In the Playoffs, Kawhi averaged 30.5 points, 9.1 rebounds, 3.9 assists, and 1.7 steals per game. Kawhi also helped the Toronto Raptors win their first ever championship.
The Los Angeles Clippers also land Paul George from the Oklahoma City Thunder through a blockbuster trade that includes multiple players and a number of future draft picks.
The Clippers are sending the Thunder four unprotected first-round picks, one protected first-round pick and two pick swaps, league sources tell ESPN. Those picks go to OKC with Gallinari and SGA.

— Adrian Wojnarowski (@wojespn) July 6, 2019
ESPN's Adrian Wojnarowski says that Kawhi Leonard will sign a 4 year $142 million deal with the clippers.
Sources: As expected, Kawhi Leonard: four-year, $142M maximum contract.

— Adrian Wojnarowski (@wojespn) July 6, 2019
Paul George averaged 28 points, 8.2 rebounds, 4.1 assists, and 2.2 steals per game in just 36.9 minutes per game, the all-star small-forward played 77 regular season games and shot 43.8 percent from the field.
Oklahoma City is trading All-Star Paul George to the Los Angeles Clippers for a record-setting collection of draft choices, league sources tell ESPN.

— Adrian Wojnarowski (@wojespn) July 6, 2019
It is reported that Kawhi Leonard wouldn't have signed with the Clippers if they failed to land Paul George.
More updates about the Paul George deal are awaited.