The one-match old bowler Jason Behrendorff had ripped the Indian top order by taking back-to-back wickets of the world class batsmen in the second T20I between India and Australia in Guwahati. Not only Behrendorff, the spin bowler Adam Zampa was good enough as he took two crucial wickets of the Indian team.
The domination of former India skipper MS Dhoni behind the stumps is known to all. Be it under-arm flicks without looking at the stumps or whipping off the bails in a flash, Dhoni has proved time and again that he is arguably the best gloves man in the business.
But, it is quite irregular when an opposition wicket-keeper gives you a taste of your own medicine. Yes, it's MS Dhoni who was the victim of Adam Zampa. Credit to the Australian spinner Adam Zampa as he managed to beat Dhoni in flight and the wicketkeeper-batsman was left clueless after he decided to step down the track.
Before all this could happen, MS Dhoni had set a new record that even he doesn't know about it. We all know MS Dhoni for his ability to knock the bails off the stumps from behind the wicket in the flashiest of flashes. What adds to his already overflowing quiver of skills is his lightning-fast speed while running between the wickets.
Dhoni set a personal record while picking up those quick runs on the 22 yards. The 36-year-old has been setting records for a long time now, be it in the arena of captaincy, batting or wicket-keeping. The man is all the more respected for sporting a cool-as-a-cucumber demeanor on the field no matter how dire the situation is for his team.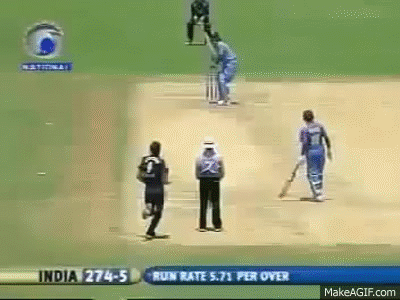 The former Indian and World Cup-winning captain seems to be aging like fine wine, getting better in his game with each passing day. In a video released by Star Sports on Twitter, Dhoni can be seen racing to complete two runs during the 2nd T20I.
While he's always been known to push for quick singles and convert the two's into three's, this particular run created a new record for Dhoni. As he ran to complete the second run and reach the striker's end, he picked up a whopping speed of 31 kmph. This is his personal highest speed while running between the wickets and is one to be a phenomenon.
Watch The Video Here:
Outrunning @msdhoni seems impossible! Catch the analysis on his ⚡️-quick runs on #NerolacCricketLive on Oct 13 on Star Sports. pic.twitter.com/rPbtbmsKES

— Star Sports (@StarSportsIndia) October 11, 2017
What do you say about Dhoni's outstanding athleticism? Share your views with us in the comments section below.
Must Watch: MS Dhoni Getting A Taste Of His Own Medicine In 2nd T20I