Rohit Sharma and MS Dhoni Presents the New Jersey of Team India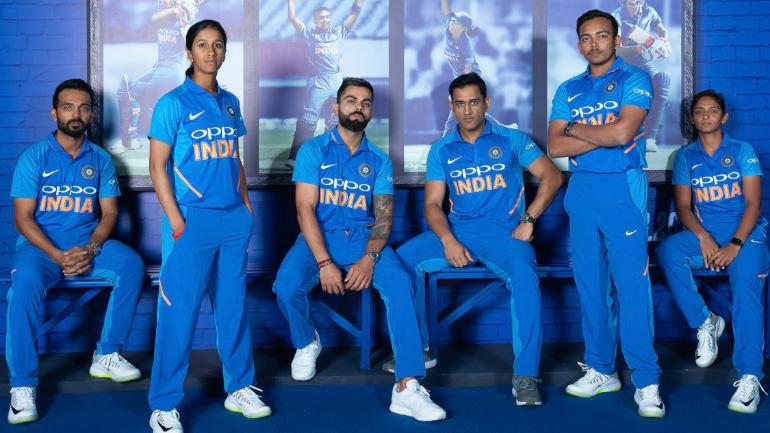 Ahead of the ODI Australia (One Day International) series and World Cup 2019, Rohit Sharma and Indian Cricket team Veteran Mahinder Singh Dhoni unveiled the new jersey of Team India.  The new jersey of Team India will have the dates of Team India's both 50-over World Cup wins and Twenty20 World Cup triumph engraved on them. Along with MS Dhoni and Rohit Sharma, Indian Pacer Jasprit Bumrah and Indian Batsman KL Rahul were also there to present the new jersey of Team India.
Rohit Sharma said "This is out new jersey which we will be sporting during the ODI series. It helps to be agile on the field. One interesting fact that the jersey also has is, along with all the colors, the dates when we won the first World Cup, the T20 World Cup, and our second 50-over format World Cup winning date in Mumbai. All these facts are rare and it is pretty nice and good looking."
India is set to play their final ODI before they head to the ICC World Cup 2019, which will start on May 30, 2019. The first One Day International between Australia and India will be on Saturday, the match will be held in Hyderabad.
The final match in the ODI will help team India figure out the perfect balance for the squad that will compete in the ICC World Cup 2019.
On June 5, 2019, India will compete against South Africa as their opener in the ICC 2019 World Cup in Southampton's "The Rose Bowl".