Post His Comments On Kumble, Now Virender Sehwag Makes A Jibe On Anil Kumble
After the Kumble-Kohli spat, the Indian cricket and BCCI has trembled. The reports started doing the rounds just before the Champions Trophy tournament began. But both the parties kept silent until the tournament completed.
The issue hit a brick wall during the course of the tournament as Kohli made his reservations very clear to the CAC at a meeting in England. But CAC was keen to extend Kumble's contract as the head coach till the World Cup 2019.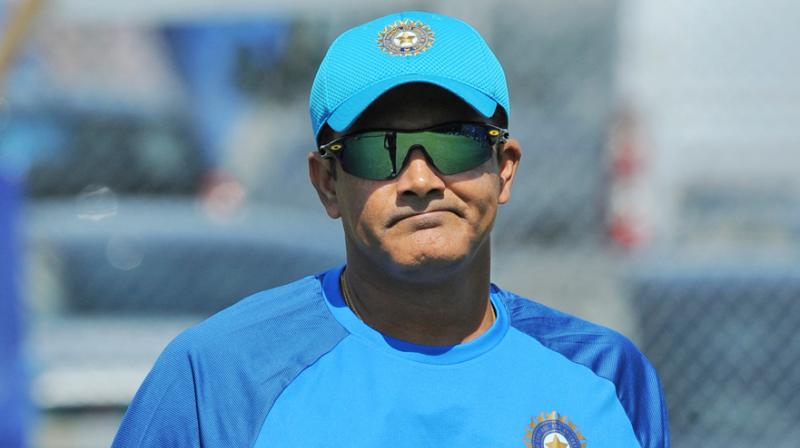 After hearing Kohli's issues with the legendary leg-spinner, they met Kumble in order to iron out the difference between the captain and the coach. It was no secret that both parties had already reached the deadlock and Kumble decided to step down from his post.
Must Read: Earlier, Virender Sehwag About Anil Kumble and the Indian Coach
Though CAC members tried to calm Kumble, their efforts didn't achieve success. Now, the CAC has a big job of appointing a new coach before the tour of Sri Lanka in the last week of July. Meanwhile, Sehwag, who applied for the job took his time to share something about the issue.
We all know Viru as a straightforward personality. Sehwag is said to be a frontrunner to step into the shoes of Anil Kumble. Thus, he took a dig at the former teammate by sharing a picture on his Instagram account with a caption:
"Finger pointing never got anything done #unglipenachaao".
Kumble has expressed surprise over Kohli's reservation against his 'style' after resigning from the post. He also added that the relationship with the captain is 'untenable'. But Virat Kohli is currently in West Indies expressed his views on the Kumble saga.
He said he won't reveal too much as he wanted to maintain the purity of the dressing room. Kohli said that he respects Kumble as a cricketer and also for the decision he has taken. For the West Indies series, in the absence of the head coach, MV Sridhar will lead the team. Whereas, Sanjay Bangar and R Sridhar are also with the team in the capacity of the batting and fielding coach respectively.
India starts the tour of West Indies on Friday when they play the first of five matches ODI series at the Queens Park Oval in Trinidad. The ODI series will be followed by a one-off T20 international game.
What do you say about Sehwag taking a subtle jibe? Share your views with us in the comments section below.