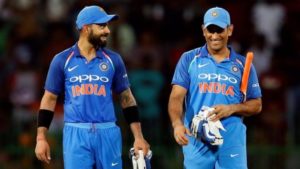 Virat Kohli Praises MS Dhoni And Says "Respect For Him Is Always Going To Be Sky High"
Cricket World Cup 2019: Before India faced New Zealand in the Semi-Finals round, Kohli praised MS Dhoni, who just turned 38-years-old.Kohli said that MS Dhoni "gives you space to discover" and added that he respects the legend.
Kohli said, "The respect for him (Dhoni) is always going to be sky high, especially from me."
Virat said this in a press conference that was held on Monday, ahead of their match against New Zealand in the semi-finals round of the 2019 Cricket 2019 World Cup.
Kohli added, "Especially being captain – he gives you space to discover yourself. But if I ask him anything, he's always there. I'm delighted to play so many years with him. We are all very grateful for what MS Dhoni has done, he is always in a very happy, jovial mood."
New Zealand is currently batting first and has scored 211 runs on 5 outs in just 46.1 overs. The match was stopped yesterday after the rain started to pour.
New Zealand will resume tomorrow on 211/5 with 3.5 overs left in their innings.

How many more runs can the @BLACKCAPS put on the board?#INDvNZ | #CWC19https://t.co/CI3EMGIAaC

— ICC (@ICC) July 9, 2019