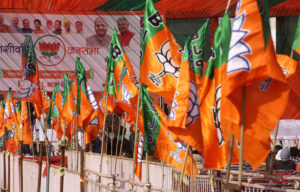 5 people killed during BJP and Trinamol Congress Clash over removal of party flags
5 people have been confirmed dead in the BJP and Trinamol Congress Clashes in Parganas District of West Bengal over the removal of party flags.
3 workers of the BJP and one from the Trinamol Congress were killed in the clashes.
The police did not release any official statement about the deaths of the people.
After the clash broke out, a huge team was deployed to the spot so they could control the situation.
Reports suggest that workers of the BJP and the Trinamol Congress threw stones at each other during the clash.
Some say petrol bombs and gunshots were also fired during the clashes.
Jyotpriyo Mullick, the president of the Trinamol Congress in the North 24 Parganas District, said 26-year-old Qayyum Mollah, a supporter of the Trinamol Congress was shot and hacked to death.
President Mullick said, "When Qayyum was on his way to attend a party meeting, he was hacked at first. When he managed to free himself, he was shot dead. The BJP is trying to vitiate the atmosphere and disturb peace in the district."
Sayantan Basu, the State BJP General Secretary, said that Sukanta Mondal, Pradip Mondal, Tapan Mandal, and Debdas Mondal were all shot dead in the clashes when they were trying to stop the supporters of the Trinamol Congress from throwing and removing their party flags.
Secretary Basu added, "We have received the bodies of three of our workers. We have heard that two more have also died but are yet to receive the bodies. They tried to throw away our party flags and posters and when we protested, our workers were shot at point-blank range."
Mukul Roy, of the BJP, has placed all the blame on the Trinamol Congress Party for the deaths of his workers and accused Mamata Banerjee, the CM, of "unleashing violence" against his party's workers.
Mukul Roy added that he is will be meeting Amit Shah, the Union Home Minister, and will personally inform him about the situation in the district.