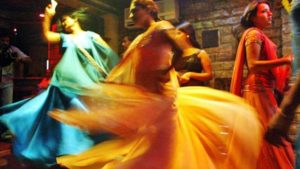 500 men tried to force dancers to strip during a cultural program in Assam
During a cultural program in Kamrup, Assam, 500 men tried to make women dancers strip down. 2 men were arrested after the incident.
Shahrukh Khan and Subahan Khan were arrested by the Kamrup Police after a complaint was registered by the dancers against the organizers of the cultural program.
The program was being held at a village that was under the jurisdiction of the Chaygaon Police Station.
According to the complaint that was registered by the dancers, the 500 men demanded them to strip and dance in front of them.
The group escaped from the program.
During their way out of the village, the men threw stones at their vehicle.
According to reports, the organizers sold tickets of the show at a very high price and said that the dancers will perform a strip dance for them during the show.
The police have registered a case and a probe has been launched to arrest the other people who are involved in the incident.