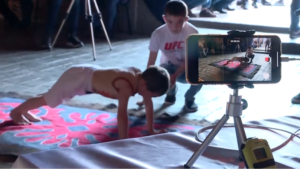 6-Year-Old Boy Does 3270 Push-Ups In Two Hours And Wins An Apartment For His Family
Ibrahim Lyanov, a 6-year-old boy from Novy Redant, Russia, did something that would make you think about why you can't do amazing stuff in life.
The boy managed to do 3270 push-ups in two hours and won an apartment for his family.
The video clip shows Ibrahim doing 3270 push-ups in two hours. Ibrahim is now part of the Russian Book of Records.
Ibrahim also won a new home for his family and set a new record for doing the most push-ups in one continuous attempt, Ibrahim did a total of 4,445.
Chingiz, a local sports club in Novy Redant, Russia, gave Ibrahim an apartment.
It is reported that Ibrahim had been training at Chingiz every single day with his pops.
Ibrahim is not the first boy who has done something amazing and impressive at the same time. In 2018, Rakhhim Kurayev, a 5-year-old boy, won a new Mercedes after he managed to do 4,105 push-ups continuously in front of Ramzan Kadyrov, a lieutenant in Russia.
The white Mercedes Benz was given to Rakhim Kurayev by Ramzan Kadyrov after Rakhim managed to do push-ups continuously for 2 hours and 25 minutes. The 5-year-old boy is now called as the "Chechen Schwarzenegger".
Local news agencies report that Kadyrov told the 5-year-old boy "Let your father drive you around in this, you're worth of riding a white Mercedes" after he won the car.
Kadyrov also told the boy that they will work out together in a fitness center.
Kadyrov said, "The boy did the impossible. We agreed to meet at a fitness centre and have a workout together."
Kadyrov added, "From now on his father will be able to drive the boy to workouts without hiring a taxi."
Looks like we have to pack our bags and head out to Russia.