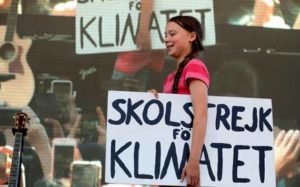 Experts Believe Greta Thunberg Could Win The Nobel Peace Prize Next Week
Experts and many people are expecting Greta Thunberg, a climate campaigner, to win the Nobel Peace Prize next week.
Bookmakers and experts believe Greta, a 16-year-old climate activist, to win the award.
Greta is the teenager who was seen and heard being furious at the UN Climate Summit earlier this year.
The 16-year-old activist was in the headlines with her angry speech, in which she said, "How dare you?! You have stolen my dreams and my childhood with your empty words, yet I'm one of the lucky ones. People are suffering, people are dying, entire ecosystems are collapsing."
She added, "And if you choose to fail us, I say, we will never forgive you."
While giving her speech, the 16-year-old activist broke down in tears.
She also went viral for her "death stare" at Donald Trump, the president of the United States of America, when he was entering the UN Climate Summit.
Earlier this week, Vladimir Putin, the president of Russia, criticized the 16-year-old girl and said she was being used by people with personal interests.
President Putin said, "I may disappoint you but I don't share the common excitement about the speech by Greta Thunberg. No one has explained to Greta that the modern world is complex and different and… people in Africa or in many Asian countries want to live at the same wealth level as in Sweden."
He continued, "But when someone is using children and teenagers in personal interests, it only deserves to be condemned. I'm sure that Greta is a kind and very sincere girl. But adults must do everything not to bring teenagers and children into some extreme situations."
He added, "Go and explain to developing countries why they should continue living in poverty and not be like Sweden."
President Putin said Greta is a poorly informed teenager who was being used by adults.
The President of the Russian Federation also said that the 16-year-old girl should tell the 3rd world countries why they should live in poverty over her campaign to cut fossil fuel use.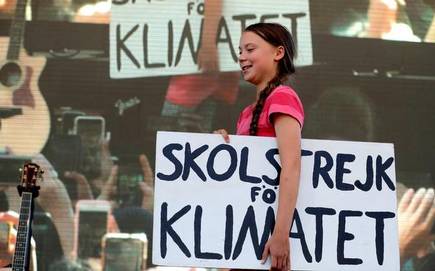 Greta launched a school strike, which is called "Fridays for Future" that has inspired millions of people, mostly students, to go on a strike.
The movement, in which school-aged children take time off their school and demonstrate and demand action to prevent further climate change.
Greta, the 16-year-old girl, started to go on a strike outside the Swedish Parliament in August, and since that, millions of children have since followed the movement.
Earlier this month, Greta won the Amnesty International's highest honor earlier this year, and experts believe, she could win the Nobel Peace Prize next week.
Donald Trump, the president of the United States of America, made the headlines earlier for saying "She seems like a very happy young girl looking forward to a bright and wonderful future. So nice to see!"
She seems like a very happy young girl looking forward to a bright and wonderful future. So nice to see! https://t.co/1tQG6QcVKO

— Donald J. Trump (@realDonaldTrump) September 24, 2019