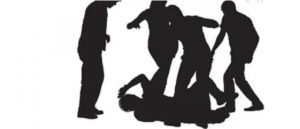 Indian Nephew Brutally Trashed And Forced To Drink Urine For Having An Affair With His Auntie
Jaipur, Rajasthan: A man from the Nimbi Jodha Village was forced to drink urine and was brutally thrashed for having an affair with his auntie.
It is reported that the man was beaten up by the locals and the family members of the Auntie. He was forced to drink the urine of the locals too.
In the video that went viral, it showed men forcing the nephew to drink urine, while his aunt was being beaten up by the locals.
A police report confirmed that the people that beat the 2 up were locals and family members.
An FIR (First Information Report) has been filed and the police have launched an investigation to find out the people involved in the incident.
The police rushed to the scene after they were informed about the incident.