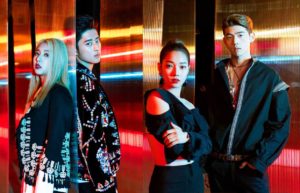 KARD India Tour 2019: K-Pop group announces "Play Your Kard Right Tour 2019" in India
KARD, a K-Pop group, is set to bring its hit songs to India in July.
Earlier this week, Pink Box Events, a New Delhi based organizing company, made the announcement.
The event organizers said, "We started with a humble beginning and here we are, 4 years later as promised bringing Hallyu once again closer to home! We are bringing to you @official_kard this July."
'Play Your Kard Right Tour 2019' will be the first concert of the group in India.
KARD will perform in New Delhi on July 12 and Guwahati on July 14.
The group is considered as one of the most popular K-Pop groups in the world.
2 months ago, IN2IT and VAV were seen performing in India, this is the third K-pop group to perform in the country this year.
KARD has four members, BM, J.Seph, Somin, and Jiwoo. The group is formed under DSP Media.
Don't Recall by KARD currently has more than 58 Million views on YouTube, the group is also considered as one of the fastest growing K-Pop groups in Korea.
Concert Details for 'Play Your Kard Right Tour 2019'
DELHI
Date: 12th July, 2019
Ticket Price: Rps. 1800 | Rps. 7000
GUWAHATI
Date: 14th July, 2019
Ticket Price: Rps. 1800 | Rps. 7000