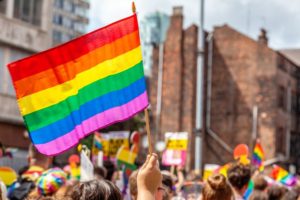 Merriam-Webster Officially Adds The Nonbinary Pronoun "They" In Its Dictionary
On Tuesday, Merriam-Webster, a dictionary, has officially added "They", a nonbinary pronoun, as an entry in their dictionary.
On September 17, 2019, the dictionary announced that the word "They" can be used to refer to a single person whose gender identity is nonbinary along with 3 other meanings.
On their blog, Merriam-Webster wrote a preemptive post before anyone criticizes their latest move.
They said, "We will note that 'they' have been in consistent use as a singular pronoun since the late 1300s; that the development of singular 'they' mirrors the development of the singular 'you' from the plural 'you', yet we don't complain that singular 'you' is ungrammatical; and that regardless of what detractors say, nearly everyone uses the singular 'they' in casual conversation and often in formal writing."
Merriam-Webster also made a sample sentence to help people understand how it would be used in a sentence.
The example: "I knew certain things about … the person I was interviewing…. They had adopted their gender-neutral name a few years ago, when they began to consciously identify as nonbinary — that is, neither male nor female. They were in their late 20s, working as an event planner, applying to graduate school."
Merriam-Webster says there has been some debate about the non-binary description, as people claim it is ungrammatical.
The dictionary also states that it has evidence in its files of the nonbinary "they" dating back to 1950.
This comes shortly after British singer-songwriter Sam Smith announced on Twitter they were changing their pronouns to 'they/them' as opposed to 'he/him'.
Today is a good day so here goes. I've decided I am changing my pronouns to THEY/THEM ❤ after a lifetime of being at war with my gender I've decided to embrace myself for who I am, inside and out… pic.twitter.com/IVoLTYbAWd

— Sam Smith (@samsmith) September 13, 2019
The new update comes after Sam Smith, a British singer-songwriter, announced that they were changing their pronouns to "they and them" as opposed to "he and him".
Sam Smith made the announcement on Twitter, and wrote, "I'm so excited and privileged to be surrounded by people that support me in this decision but I've been very nervous about announcing this because I care too much about what people think but f*ck it!"
Sam added, "I understand there will be many mistakes and misgendering but all I ask is you please please try. I hope you can see me like I see myself now. Thank you."