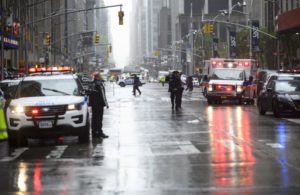 Pilot dead after Helicopter crash lands on 52-storey NYC Skyscraper
A twin-engine Agusta A109E helicopter crash landed on a skyscraper in New York and kills its pilot, who was the only person on board.
The fatal crash sparked the rooftop of the skyscraper on fire and most workers of the building were rushed out from the tower.
No injuries were reported.
The skyscraper is located near the Times Square.
Governor Andrew Cuomo of New York, said New Yorkers get a flashback of "a level of PTSD from 9/11″ when they heard the news.
Tim McCormack, the pilot that was flying the twin-engine Agusta A109E helicopter has been confirmed dead in the crash.
The Federal Aviation Administration said that McCormack was the only one who was in the helicopter.
The fatal crash happened by 14:00 (18:00 GMT) on Monday in Seventh Avenue when it was foggy.
Governor Andrew Cuomo said, "There was a helicopter that made a forced landing, emergency landing, or landed on the roof of the building for one reason or another."
The 54-storey building is located between West 51st and West 52nd streets at the north end of Times Square.
The Building is known as the AXA Equitable Center which has tenants that includes Citibank, BNP Paribas, and Willkie Farr & Gallagher, an international law firm.