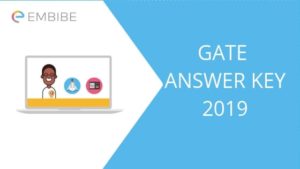 Check The GATE Answer Key 2019 at Gate.iitm.ac.in also get Direct Link Here
The IIT Madras has made the GATE 2019 Answer Key on their official website, all candidates who took the exam can download the GATE 20019 Answer Key on gate.iitm.ac.in. The IIT (Indian Institute of Technology) Madras organized this year's Gate Exam. They held the entrance exam for the admissions to programs in the technical institutes in the 1st and 2nd weeks of February. The response sheet for the GATE got released a couple of weeks ago on their official website.
The GATE Exam scores are also used in the recruitment in the PSU's in India.
Direct Link of the GATE Answer Key 2019
All candidates who took the exam can raise objections in the Gate 2019 Answer Key. The final GATE 2019 papers will be re-evaluated after the objections will be raised and the GATE Scores will be released on March 16.
The GATE 2019 Result
The GATE 2019 scorecards are going to be available to those candidates who qualified from the GOAPS/
The IIT Madras said: "After the evaluation of the answers, the actual (raw) marks obtained by a candidate will be considered for computing the GATE Score. For multi-session papers (subjects), raw marks obtained by the candidates in different sessions will be converted to Normalized marks for that particular subject."
They added: "Thus, raw marks (for single session papers) or normalized marks (for multi-session papers) will be used for computing the GATE Score, based on the qualifying marks. GATE 2019 results will be announced on the 16th March 2019 and will be available on the GOAPS Website."