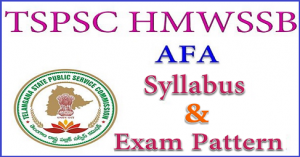 TSPSC HMWSSB AFA Syllabus 2015: Telangana HMWSSB Assistant Finance Exam Pattern PDF Download
TSPSC HMWSSB AFA Syllabus 2015: Telangana HMWSSB Assistant Finance Exam Pattern PDF Download – Telangana Public Service Commission (TSPSC) Hyderabad Metropolitan water supply and sewerage board (HMWSSB) has released an official notification for recruiting candidates for the post of Assistant Finance and Accountant. As per Telangana PSC HMWSSB Recruitment 2015 there are 115 vacancies were released by the organization. The candidates those who are waiting for AFA posts can utilize this great opportunity.
Aspirants who are going to apply or applied are searching for Assistant Finance Syllabus and exam pattern 2015 for the exam that is to be conducted on 29th November 2015. The candidates those who are very serious about this exam need to prepare well by following Syllabus and exam pattern from here. To know what type of questions will be asked in examination from which subjects the examination is going to be conducted for the Telangana PSC HMWSSB recruitment exam clear information with exam pattern are provided below.
Telangana PSC HMWSSB Assistant Finance and Accountant Syllabus and exam Pattern 2015:
Telangana Public service commission is the government body which releases TSPSC Job Notifications. This is the first time after bifurcation Telangana it various Recruitment Notifications. Recently Telangana Public Service Commission HMWSSB has released the notification for recruiting 115 AFA Posts. A large numbers of interested candidates have applied for the Recruitment and searching for TSPSC HMWSSB Syllabus 2015 exam pattern to start their preparation. Syllabus and exam Pattern helps the candidates in managing the time for the preparation and to crack the job easily. Candidates can get the details information about Telangana PSC HMWSSB Recruitment 2015 syllabus and exam pattern from below.
Name of the Organization: Telangana Public service commission
Job Role: Assistant Finance and Accountant
Job category: Government
Name of the department:  HMWSSB
Official Website: tspsc.gov.in
Total Number of vacancies: 115 Posts
Job location: Telangana
TSPSC HMWSSB AFA Syllabus and Exam Pattern 2015:
Candidates can know the TS HMWSSB AFA Syllabus & exam pattern from below. Here we have provided the complete TS HMWSSB AFA Syllabus & Exam pattern 2015. B.Com Candidates with proficiency in Computers are eligible for this TS HMWSSB AFA Recruitment 2015. Syllabus and exam pattern which help a lot in prepare according to the topics that are going to appear in the exam. So, Candidates can download TS HMWSSB AFA recruitment from below.




PAPER-I: GENERAL STUDIES AND GENERAL ABILITIES:TS HMWSSB AFA Syllabus:



1. Current affairs – Regional, National and International.
2. International Relations and Events.
3. General Science; India's Achievements in Science and Technology.
4. Environmental issues; Disaster Management- Prevention and Mitigation
Strategies.
5. Economic and Social Development of India and Telangana.
6. Physical, Social and Economic Geography of India.
7. Physical, Social and Economic Geography and Demography of Telangana.
8. Socio-economic, Political and Cultural History of Modern India with special
emphasis on Indian National Movement.
9. Socio-economic, Political and Cultural History of Telangana with special
emphasis on Telangana Statehood Movement and formation of Telangana state.
10. Indian Constitution; Indian Political System; Governance and Public Policy.
11. Social Exclusion; Rights issues such as Gender, Caste, Tribe, Disability etc. and
inclusive policies.
12. Society, Culture, Heritage, Arts and Literature of Telangana.
13. Policies of Telangana State.
14. Logical Reasoning; Analytical Ability and Data Interpretation.
15. Basic English. (10th Class Standard)
PAPER-II: COMMERCE (DEGREE LEVEL)
1. Accounting — Meaning and Definition – Book-keeping and Accounting –Accounting concepts and conventions – Classification of Accounts – Rules of Double Entry – Accounting Process (up to balancing of Ledger Accounts). Subsidiary Books and Bank Reconciliation Statements –Trial Balance, Final Accounts, Errors and Rectification. Depreciation – Provisions and Reserves.
2. Accounts from Incomplete Records – Hire purchase and Installment Purchase Systems – Accounts of Non Profit Organisations – Branch and Departmental Accounts – Bank Accounts.
3. Partnership Accounts – Fixed and Fluctuating Capital Methods – Final Accounts – Admission, Retirement and Death of a Partner – Dissolution of Firm – Final Accounts of Life Insurance Companies.
4. Corporate Accounting – Indian Accounting Standards – Valuation of Goodwill and Shares – Issue of Shares and Debentures and their Redemption – Final Accounts – Issue of Bonus Shares and Profits prior to Incorporation – Amalgamation and Internal Reconstruction.
5. Cost Accounting – Introduction – Elements of Costs – Methods of Costing – Break Even Analysis – Budgets and Budgetary Control. Financial Statement Analysis – Cash Flow Analysis and Ratio Analysis.
6. Introduction to Statistics – Measures of Central Tendency – Measures of Dispersion and Skewness – Correlation and Regression – Time Series and Index Numbers. Income Tax – Introduction – Income from Salaries – Income from House Property – Income from Other Sources – Deductions from Gross Total Income – Total Income – Tax Liability of Individuals – Filing of Returns. Customs Duty – Central Excise – VAT – Service Tax.
7. Business Organisation – Fundamental concepts – Forms of Business Organisation – Sole Proprietorship, Partnership, Joint Hindu Family and Company. Management – Functions and Principles, Planning and Organising. Business Economics – Introduction – Demand and Supply Analysis – Production Analysis – Market Structure and Equilibrium – National Income –Trade Cycles and International Trade.
 8. Sale of Goods Act, Contract Act – Essentials – Discharge of Contract — Consumer Protection Act Company Law — Doctrines – Management of Companies – Winding up of  Companies.
9. Auditing – Planning of Audit and Control – Vouching and Audit of Financial Statements – Audit Report. Indian Financial System – Banking Systems and its Regulation – Banker and Customer.  Financial Markets and Services.Types of Insurance and its Regulations.
10. Introduction to Computers – Operating Systems and Windows – MS Office – MS Excel – MS Access – MS Power Point – Internet and E Commerce.
Press CTRL+D right now to bookmark this website. Here we provide all the information about Job notification, Syllabus, Previous Papers, Results declared. Stay tuned for this website for more updates.