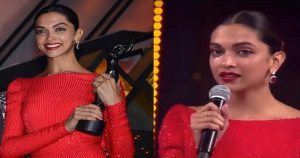 Deepika Padukone Cried While Reading Out Her Dad's Heart-Warming Letter At Filmfare Awards 2016
Deepika Padukone recently won the Best Actress award at the Filmfare Awards for her superb act in Shoojit Sircar's Piku. An emotional Deepika thanked her parents in front of all stars. The smiling queen of Bollywood was covered in tears, as she read out a special letter wrote by her father.
Deepika Padukone said, "I want to dedicate this award to my parents. There is a little letter that my father wrote to me and my sister Anisha, which I felt it is apt to read out now, especially since the award is for my movie Piku." She read, "Dear Deepika and Anisha, As you stand on the threshold of life's journey, I want to share with you some lessons that life has taught me. Decades ago as a little boy growing in Bangalore I started my tryst with Badminton."
"In those days, there were no stadiums and no courts. The Badminton court was a wedding hall near our house and it is there that I learnt everything about the game." "Every day we would wait to see if there is a function in the hall and if there was none we would rush there after school to play our hearts' content. Looking back, I realize that the most important thing about my childhood and adolescent years was my refusal to complain about a lot in life."
"I was thankful for the few hours a week we had the opportunity to hit the shuttle back and forth. And that is what I want to tell you, my children, that there is no substitute for perseverance, hard work, determination and passion for what you do." "If you love what you do nothing else matters. Neither awards nor compensation, not even the gratification of seeing your face on newspaper or television.  
Deepika hugged her dad Prakash Padukone and this sight left the audience teary-eyed. Another high point for Deepika was receiving the trophy from none other than Rekha.