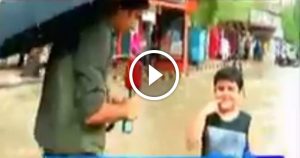 WATCH: You Can't Stop Laughing at This Kid Who Reveal the Pole of Reporter During Live Reporting
You might have you seen journalists or reporters silencing others by their tough questions and quick responses. You might have also seen them getting away with asking really dumb or insensitive questions. But have you seen a reporter being left with a stupid answer for his stupid question? That's what happens to this journalist in the video. This kid's response to a Pak reporter's question on Live TV will definitely leave you in splits.
Well, we don't wish to spoil it for you by revealing the kid's response. Check it out yourself and have a good laugh!
Watch the Video Here:
This boy's hilarious response is a lesson for every reporter who ends up asking really dumb questions!