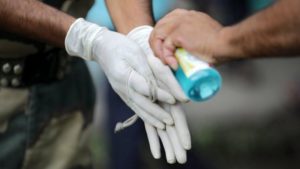 10 Andhra Pradesh Men Die After Drinking Alcohol-Based Sanitizers After State Shuts Down Liquor Shops
At least 10 people in India have passed away after drinking alcohol-based sanitizer after the government of India ordered to shut down liquor shops.
In the village of Kurichedu, Andhra Pradesh, was placed in lockdown after a local surge in cases of the coronavirus.
Siddharth Kaushal, the police chief of the district, said that the people who died in the incident mixed hand sanitizers with water or soft drinks.
People started to drink the deadly mixture for around 10 days before they died.
Officer Kaushal said:
We are investigating whether the sanitiser had any other toxic content. Some people who are heavily addicted to alcohol had been consuming hand sanitisers for the high," he told Reuters news agency. Alcohol is not available because of the lockdown, but hand sanitisers are easily available.
The federal government of India has reopened businesses in the country to prevent an economic crash.
However, states in the country are continuing to enforce strict lockdown measures in areas where there are high numbers of confirmed cases.