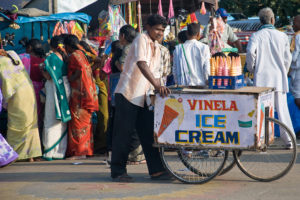 2 Noida Police Officers Beat Ice-Cream Vendor After He Asked Them To Pay Rs. 150 For Ice-Cream
Uttar Pradesh: Two police officers from Noida decided to beat up an ice-cream vendor after he asked them to pay for the ice cream they bought from him.
Investigations revealed that the thrashing of the ice-cream vendor happened on July 13, 2019.
The incident came in light after the video of it went viral on social media.
During an interview with the Ice-Cream Vendor, he said, "I was selling ice-cream near the Police post when one inspector and a constable came and had ice-cream. When I asked for the Rs 150 which was due, they started beating me. They took me to the police post and they beat me there also."
Amit Kumar, alias Tinku, works as an ice-cream vendor near the Sector 49 Police Station of Noida.
During a press release, Police Officer Vaibhav Krishna said, "They took the vendor to the police chowki and again beat him. Locals had meanwhile called up the emergency "100" number after which another police team reached the spot and the matter was brought to a closure. However, Tinku then approached the senior superintendent of police with a complaint against the policeman, prompting him to order an investigation in the case."
Officer Vaibhav added, "Following the incident, the vendor had approached me. An investigation has been ordered and further action would depend on the findings of the probe."
An investigation about the incident has been launched and the Noida Police said that justice will be served.