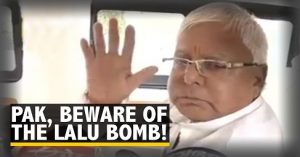 "If Pak Has Nuclear Bomb, Then Make Me LALU BOMB", Says Lalu Prasad Yadav
Former Union Minister and Chief of Minister of Bihar state Lalu Prasad have been a man of humor. There are instances of this political leader who leads Rashtriya Janata Dal political party making a serious man burst into laugh surprising people across the nation. This politically celebrated man Lalu Prasad Yadav has again hit the headlines with his sarcastic comments on his counterpart Narendra Modi.
Lalu Prasad Yadav Knocks Pakistan NSA Sartaz Aziz
Lalu Prasad Yadav who passed on sarcastic comments over Bharatiya Janta Party (BJP) chief Amit Shah claiming him as fat guy after being stuck in the Bihar state guest house elevator for almost an hour. Addressing people in his rallies recently in Bihar, Lalu Prasad was trying to comprehending about Pakistan's NSA row at Prime Minister Narendra Modi.
RJD chief Lalu Prasad Yadav simultaneously took onto the neighboring nation Pakistan with witty statements. Perhaps Pakistan has to think over twice before answering this man of witticism. The National Security Advisor (NSA) Sartaz Aziz passed on Nuclear Bomb threats to India after the cancellation of NSA talks which was supposed to have taken place in New Delhi this week a few days ago.
Annoyed Lalu Prasad Yadav over this Nuclear Bomb threat of Sartaz Aziz has made the neighboring nation Pakistan into a perplexed state with his humorous remarks. Lalu Prasad Yadav said, "Make me Prime minister of India and Pakistan will have to fight against Lalu bomb" after being asked about how he would deal with Pakistan's threat of Nuclear Bomb.
Watch Out Witty Statements of Lalu Prasad Yadav
The above video of Lalu Prasad Yadav straightens out that he yet another wonder of the nation whose deeds and words can't be proclaimed. This man of drollness bashes out both Narendra Modi and Pakistan for their failure in keeping with their work with his single statement.
Stay tuned with us for more trending alerts of events happening across the nation with us by bookmarking (press Ctrl+D) us in your web browser for easy navigation.